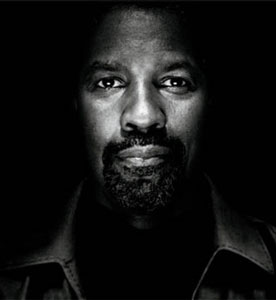 Denzel Washington might have built his well-deserved reputation on dramatic roles in theater and film — he won his first Oscar for his role in Glory — but Washington has also played some scary, tough dudes — like his character in Training Day, for which Washington won his second Oscar. Washington appears in a similar role opposite Ryan Reynolds in Safe House, as rogue CIA agent Tobin Frost.
Washington admits that the role is a bit of a throwback to intimidating characters he has played in the past, pointing out, "Safe House was an opportunity to revisit ways of working that I used to do." 
Though Washington wanted to immerse himself in the role, he purposely avoided doing research on CIA agents.  He explains, "I didn't want to do a lot of CIA research because Tobin Frost wasn't CIA anymore. He hated everything about the CIA, and I wanted to discover his dark side."  Instead, Washington focused on studying sociopaths, which he felt ultimately Frost was.  He says, "Scott [Stuber, the film's producer] gave me some great books to read, one of which was The Sociopath Next Door, which became my bible that I would refer to in developing the character. I felt Tobin was a sociopath. When you think 'sociopath,' you think violence, and the majority of sociopaths aren't violent but they want to win and manipulate. I thought he was a great liar, a great manipulator and perfect for the CIA."
Washington definitely pulled it off  — I have even found his cold stares on the movie's posters that are hanging in the subways around here intimidating!
Safe House opens in theaters on February 10.