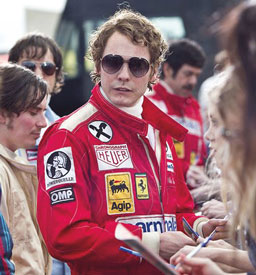 In the upcoming Ron Howard film, Rush, the casting of the role of  Formula One race car driver Niki Lauda was crucial. German investors had their heart set on a big American star to take on the role, but Howard went with his gut and cast the right actor for the role, Daniel Brühl.
The German actor was certain he wasn't going to be offered the film, so he went into the audition just for the experience of meeting the Oscar-winning director.
The 35-year-old actor said, "…my reaction was that it's impossible to play that guy because he's so different. I was quite restrained. But then I read the script and I was blown away because I think Peter Morgan is the best scriptwriter when it comes to stories based on real characters. And then I knew that Ron Howard was directing it, so I thought: 'OK, let's go to the audition and let's try it.' But I was quite relaxed, so maybe that was a good thing, because I thought they wouldn't offer it to me anyway."
Since Rush follows the rivalry of Lauda and James Hunt (Chris Hemsworth) throughout their careers, meeting the man behind the true story was important to Brühl.
"That was the crucial thing to me, the most important part of the preparation, because I had so many questions. I was waiting for his call and he always wakes up very early. And then one day it was +43 on my phone, so I knew it was him, and I clearly remember the first conversation because he's so un-diplomatic," said the Inglorious Basterds star. "He said: [In accent] 'I guess we have to meet now…' And I said: 'That would be good.' And he replied: 'OK, come to Vienna, just bring hand luggage in case we don't like each other and you can piss off!' So, fortunately, I had to buy some extra luggage in Vienna because I stayed there longer than expected."
He added, "…all the long conversations we had were great because he was very open and he would answer anything I would like to know, even delicate questions talking about the accident, death, and fear and overcoming fear and all of these questions that I had. He explains things very well but still there were some aspects that you can't fully understand if you haven't gone through something similar. So, then you have to find your own approach to get into his mind, or whatever. But it was very helpful to study his body language and his accent and the way he is."
Learning those little nuances about Lauda helped keep Brühl on track while shooting the film.
"When we were shooting and I was upset with something… I didn't like the food or something, I kept the Niki character, which was helpful. 'The food is shit,'" he explained.
Brühl also does an incredible job of making Lauda's gruff personality seem likable. The actor stayed on top of that aspect in the script with screenwriter Peter Morgan to make sure he was not only true to the words on the page, but also to race car driver's legacy.
The Fifth Estate actor said, "I talked to Peter Morgan about it a lot of times because he knows him quite well and it's thanks to that relationship that I think the quality of the script is so good. I was so happy with my dialogue because that's exactly the way he speaks – the staccato sentences and what he says and how he says it was very well captured. But still, after one week, I felt like I was giving Chris always a hard time, and being so cocky, that I said to Peter: 'Will they like me? Will they like the character?' And he said: 'No, no, trust me, do it like that. It will be funny.' And it's true."
Rush hits theaters nationwide on Sept. 27.
Via HeyUGuys