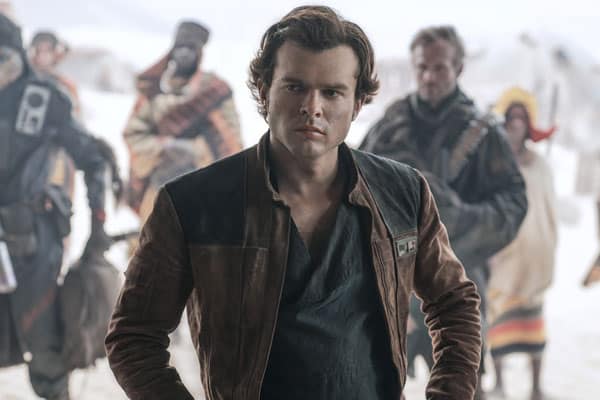 There are some really good and fun things in Solo: A Star Wars Story. But, there are also some things that, while not terrible, they're just incredibly slow and bland.
The film is the origin story of Han Solo, play here by Alden Ehrenreich. We're first introduced to Solo as a teenager, where he and Qi'rara (Emilia Clarke) are on the run from a gang of Intergalactic baddies. He manages to get away but she's captured and Solo makes it his mission to find and rescue her. Cut to three years later, he's joined the Empire in attempts to become a pilot. There, he meets Tobias Beckett (Woody Harrelson) and his crew, who reluctantly allow him and his new friend, Chewbacca (Joonas Suotamo), to join in their escape from the Empire's battleground.
His new crew of galactic smugglers has a debt to pay to a fellow named Dryden Voss (Paul Bettany). They've got to steal and deliver a valuable resource named coaxium to Voss but in order to do that, they need fast ship. And  that's where we meet the ever cool Lando Calrissian, played by Donald Glover.
The film definitely isn't the worst of the Star Wars catalog, that award belongs to Star Wars: Episode 1. This one falls falls squarely in the middle.
One of the big action sequences at the beginning of the film, a big train heist, couldn't be more lackluster. It was done way better in Captain America: Winter Soldier. Also, through the beginning of the film there's no real energy to it, it starts off lackluster and slow. Thankfully, it picks up towards the middle, right about when Glover's Lando enters the story.
While he's not exactly channeling Harrison Ford, Ehrenreich does grow on you and by the end of the film, he's definitely made Solo his own. He's got that grin, charm and young Solo cockiness. It's a huge task that he was asked to accomplish. Who can replace Harrison Ford and his iconic take on Han Solo?
Glover's take on Calrissian is terrific. He's got that suave and sleek attitude that Billy Dee Williams had in the original films. He even matches that steely-eyed gaze he had, where you don't know what if he's going to screw you or save you.
And Harrelson is always good as an older mentor to a younger startup.
The original directors, Phil Lord and Chris Miller (21 Jump Street), were famously fired from the project 6 months into filming and you can't help but wonder what the film would have been like if director Ron Howard had been behind it from the beginning. The film picks up momentum about halfway through and that's where it finally gets fun. Hopefully he'll get a second chance with the inevitable sequel.