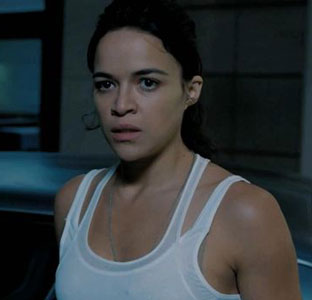 Michelle Rodriguez has no problem speaking out about the lack of good roles for women in Hollywood.
"The drive behind the majority of female characters is, 'Let's have the girl let the bad guys in.' Or, 'Let's give the lead guy something to save,'" she said in an interview with The Los Angeles Times.  "It's typical of Hollywood decisions that don't work anymore.  You can be kickass and a sexy woman.  You can't just write the female off with wackness.  It's hard for a woman in this business.  I always have to redevelop the script for my character to be involved.  It sucks!"
Despite Rodriguez's success in The Fast and Furious franchise, she is getting increasingly frustrated with the entertainment industry.  "All the [stuff] I been through, man?  People attacking me and people hating on me and me sticking my own foot in my own loud mouth?  There comes a time when you stop caring," she said.  "You start caring more about being true to yourself.  That's kind of where I am now.  I'm too old to give a…!"
But Rodriguez isn't saying she'd quit show business and not play Letty Ortiz in The Fast and the Furious 7.  "Do you think they'd kill me right after bringing Letty back?"  she pondered.  "I try not to kill my chickens until they're hatched."
The Fast and the Furious 6 is in theaters now.