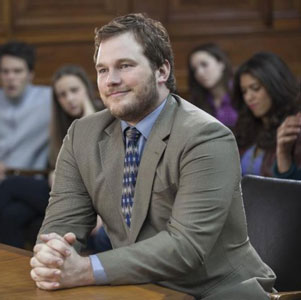 Chris Pratt is keeping busy in Hollywood with comedic roles in films like Delivery Man to voicing the lead role in The Lego Movie. He's also diversifying by playing Peter Quill a.k.a. Star-Lord in Marvel's Guardians of the Galaxy which hits theaters next summer.
The 34-year-old actor sat down with Moviefone to talk about how he approached the script for Delivery Man and his work with co-star Vince Vaughn.
With some of the best lines in the movie, Pratt knew that "usually moments will leap out at you. You'll understand a moment is going to be funny. And, oftentimes, not on this movie but in other movies, I would help those moments by maybe improvising a line or saying the same joke but in my own words and knowing when a moment to be funny is there and making sure that that moment's funny. Whether it's saying it exactly how it's written, or coming up with your own way of making it funny, that would be the moment. So moments jump out at you."
He shared that there was less improvisation on this comedy than in other films he's worked on.
"But with this movie, both Vince and I stuck really strictly to the script. No improvisation, no going off book. I would say the words as written and do it like that. It was a challenge for me. It's not something I normally do. Even in dramatic things, I'll paraphrase essentially. So I did that and there were definitely moments in this movie, some really great comedic moments that I knew would land. But sticking exactly to the script, then seeing the film with a small audience, some moments were funny when I didn't realize they would be funny," said Pratt.
The Parks and Recreation star is also gearing up to lead a Marvel franchise which carries a lot of pressure as an actor.
When Moviefone asked him if he was mentally prepared to take on the challenge, he replied, "I don't know. Probably not. I'm probably not mentally prepared for that, but I'm not sure that there's any amount of preparation you can really do. I think it's just running, gunning, learn on the fly which is what I've been doing for ten years. I've been faking it for ten years, so hopefully I can fake it when that comes around. You know, it's like you just learn as you go. I think it'll be fine. You know, you learn quickly in this business to set your expectations really low to prevent yourself from having your heart broken over and over. Whether it's auditioning for something that you really want or working passionately on a movie and hoping that it will hit with an audience or hit with critics. You really want all of those things to go well and all it takes is them not going well a couple of times before you start to be pretty guarded to prevent yourself from being heartbroken."
Wisely, he's not going to get ahead of himself and think this will put him in the mix with other A-listers in Hollywood.
Pratt explained, "I'm not going to start preparing for what my life could look like if Guardians of the Galaxy is a huge hit and changes my level of fame. I'm not going to prepare for any of that because then if it doesn't happen I'll be heartbroken, you know. So instead, if it happens, I'll try to deal with it then and if not then I'm no worse off than I am now. Maybe that'll work."
Delivery Man is now open in theaters nationwide. Guardians of the Galaxy hits theaters in August 2014.