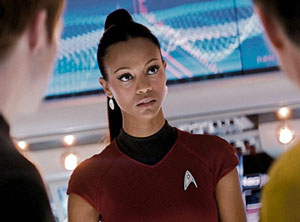 Zoe Saldana doesn't mind that her movie roles tend to take place in space, including Avatar, the Star Trek franchise, and her newest film, Guardians of the Galaxy.  In fact, she likes appearing onscreen as multi-colored characters.
"Well, the rainbow has a lot of colors," she said in an interview with Yahoo! News.  "I dig it.  I like being in space.  I get to play less girlfriends, more female parts, more women.  So I find it meaty."
The actress also admitted she has a lot of admiration for the directors that she's gotten a chance to work with.  "It's a testament to how creative the people that conceive supernatural and science-fiction kind of stories," the 35-year-old said.  "They're able to build something out of nothing by just imagining it.  I have a huge fascination with that.  Filmmakers like JJ [Abrams, director of Star Trek], like [Guardians director] James [Gunn], like James Cameron [director of Avatar].  You need to be really, really special to do that.  So I like being with special people."
Guardians of the Galaxy will hit theaters August 1, 2014.