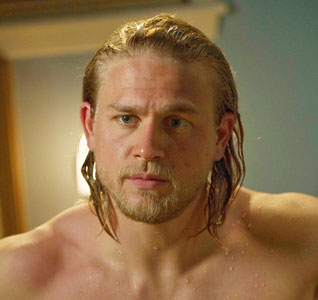 The most buzzed about movie of the year is finally cast and the backlash over who is playing Christian Grey and Anastasia Steele has been tremendous. Despite the online protests, Sons of Anarchy star Charlie Hunnam is taking the whole thing in stride.
In an interview with the Associated Press, he talked about the sexual themes he will have to tackle in the film.
The 33-year-old actor explained, "You know what, I had such a baptism of fire with regards to sexuality on camera at the beginning of my career. I starred in the British Channel Four miniseries Queer as Folk, where I played a young, gay character, and there were some incredible, explicit sex scenes on that show."
With the passage of time, also comes wisdom, so Hunnam is ready the opportunities that Fifty Shades of Grey brings.
"…Now I am 16 years older and more mature so I don't anticipate them being too much of a problem. It's like anything else, just an exciting challenge," said the FX star.
The one person the actor may have to convince about the big screen adaptation of E.L. James' bestselling novel is his girlfriend Morgana McNelis. Even though she's been in a relationship with the actor for over seven years, the thought of the steamy sex scenes with his co-star Dakota Johnson has her a bit nervous.
"Of course, it's difficult being with an actor, you know? She is required to share certain parts of me with the world that she wouldn't necessarily choose to do, but we have a great relationship, and she loves me and wants to be with me and we've been together a long time now, and I think she understands and has come to terms with the fact that there are certain elements of me that she is going to have to share," revealed Hunnam. "This is an extreme example of that, but thankfully we do have seven and a half years of history together, so it won't be a big problem."
Fans will have to wait until August 2014 to see the characters come to life. With the amount of controversy the film is generating in pre-production, Hunnam is going to be just fine.