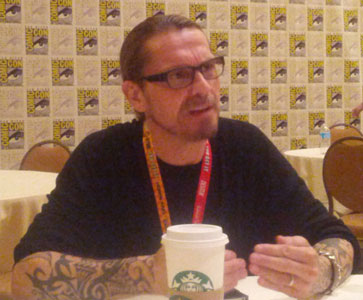 Comic-Con: Outspoken, funny and incredibly smart, Kurt Sutter, the showrunner/creator/mastermind behind Sons of Anarchy, is always fun guy to chat with. The new season of Sons starts September 11th on FX and it's set to be the best yet.
Sutter hasn't always been a writer, he actually began his career as an actor. After graduating from Rutgers with a degree in film, he moved to NYC, did some Off-Off Broadway shows and eventually moved to teaching and directing (Sanford Meisner technique if you're curious). He was then awarded a Fellowship at Northern Illinois University where he began to write and upon graduation, he headed west to LA, landing his first job on FX's The Shield.
In this interview, he talks about the possible Sons prequels, the mythology of the show and what might happen on the upcoming season and beyond. 
Check it out below!