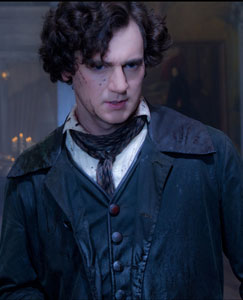 While playing one former President in the Broadway show Bloody Bloody Andrew Jackson, Benjamin Walker was cast as another former Head of State: Abraham Lincoln in Abraham Lincoln: Vampire Hunter. 
In an interview with Vulture, Walker spoke about the difficult road to getting cast. He said, "The audition process took almost eight months of work.  The producers and Timur [Beckmambetov, the director] came and saw Andrew Jackson, and then we had a screen test where we worked on the Gettysburg Address all day, and then we went back and forth on the script for a while, and then I had a prosthetics test.  It went round and round for quite a while.  And somehow we made it!"
Walker notes that spending a full day on the Gettysburg address was "intense, mostly because it's some of the best political rhetoric ever written in America.  Yes, there are vampires in the movie, but it's also a real honor to be part of the Lincoln story.  He's a fascinating man and a lot of fun to learn about."
The actor also learned martial arts and lost 30 pounds while filming the movie, which will be released on June 22.