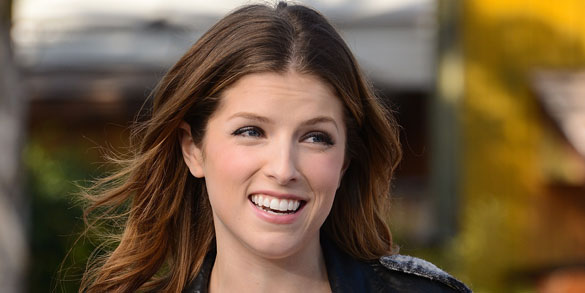 I was a little late to the "Anna Kendrick is talented and adorable" party considering that she first became known starring on Broadway in the musical High Society in 1998 when she was only 12. Music has been a huge part of her career since, particularly in the movie Pitch Perfect that led to her scoring a hit song with Cups.
While Kendrick has a few more musical projects lined up — she will star in film adaptations of the musicals The Last Five Years and Into the Woods and will return for Pitch Perfect 2, she told The Wrap that after that rush of musicals she's going to take a well-deserved break from singing.
She explained, "I never want to sing again, honestly. It's hard as f-ck. The Pitch Perfect [sequel]is going to be fine, ten girls have to be able to sing the songs so it's going to be fine, but doing The Last Five Years and then Into the Woods straight away, I was like, I don't want to have to think about my voice so much. I want to be able to drink beer whenever I want."
In fact, Kendrick admits that she didn't want to do so many musical projects in a row, but she wasn't going to let the timing stop her from doing what she loves. She says, "Honestly, after Pitch Perfect, I wouldn't have ever wanted to do a musical. I would have intentionally tried not to do a musical, but when it's The Last Five Years and Into the Woods, you can't really say no."
Being that Kendrick starred in the beer-themed comedy Drinking Buddies and a recent Newcastle commercial, let's hope for her sake that she doesn't get sick of beer too!