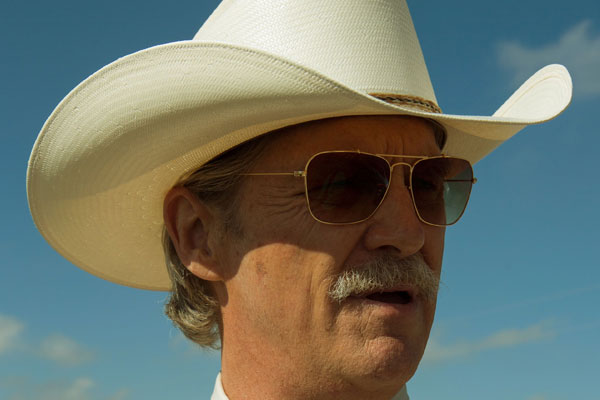 "I use elements of myself—I see my parallels with a character—and find similar things in my own personality." – Jeff Bridges on Creating a Character
Jeff Bridges might appear in some bad movies now and then, but Bridges is one of those actors who is never really bad in a movie. He's always great in whatever role he is in, though some of his best roles draw on the western persona that he established in The Last Picture Show so many years ago. In the film Hell or High Water, Bridges draws on that to play a grizzled Texas Ranger. In an interview with The Daily Beast, Bridges spoke about working on the film, why he tends to accept roles in Western-style films and smaller-budget films, and, of course, his thoughts on playing The Dude in The Big Lebowski.
Bridges gives credit for Hell or High Water to the creative team behind the camera as well as a real-life Texas Ranger who advised him. He says, "Taylor Sheridan gave us a great script to work with, and I was a big fan of Sicario. He also comes from acting so the lines were wonderful to say. And our director, David Mackenzie, I was a big fan of Starred Up and saw what he did with such a low budget, and how he created such a great level of authenticity there. As far as the character, I was very fortunate to have Joaquin Jackson, one of the greatest Texas Rangers of the 20th century, who was onboard a lot, and I was able to talk to him and ask how a Texas Ranger behaved, what his clothes were like, and all that. Sadly, he died some days ago."
Bridges has made a career out of playing cowboy-like characters despite his Los Angeles roots. He gives credit to his father, actor Lloyd Bridges, for getting him interested in westerns. He explains:
Well, the first thing that pops into my mind when it comes to playing cowboys is my father, Lloyd Bridges. When I was a little kid I loved to dress up like a cowboy—put on the boots, hat, and walk around. He was in a lot of westerns and my Dad loved to ride. We've had a ranch for almost 40 years now in Montana, so I'm around a lot of western guys. And also another thing is my stand-in, Loyd Catlett, we've done close to 70 movies together and we met on The Last Picture Show back in 1970. Since we've been working together, we've become friends all these years, and he's from Texas and was hired not only as an actor on that film but also to teach us California kids what it's like to be a kid from Texas. I owe a lot to him when I do my western characters, especially.

But for me, as I guy who loves to go to movies, I find a movie like ours or Starred Up, that was made for a couple hundred thousand bucks, or Once, which was made for nothing, as far as being entertained, those surpassed many superhero movies that I've seen. So I think the fact that we do have these big, multimillion dollar films—there's a backlash to it, and you also have very inexpensive movies that are pushing the envelope in a different direction. I just saw a movie called Tangerine, a whole movie shot on iPhones. The state of Hollywood is in an interesting place.
On that note, while Bridges has done his share of big-budget films — Iron Man, Tron: Legacy, and RIPD, for example — he tends to gravitate more to smaller projects. Like many film fans, he'd like to see studios spend more on lower-budget films. He points out, "The term 'show business' has been around for a really long time, and if you talk about the business aspects of show, you're right: I can never figure out why the financial powers that make movies will spend $200 million on a sequel as opposed to making twenty $10 million movies. I would think that would be more lucrative, but evidently it's not. At the same time, we get to have these big hundreds of millions of dollar budgets for movies, and those are fun movies to see, and the technology that is created by movies like that is amazing."
Unsurprisingly, the interviewer brings up Bridges' most famous role — playing The Dude in The Big Lebowski. As he has in the past, Bridges admits that there is a lot of similarity between the character and himself, saying, "I use elements of myself—I see my parallels with a character—and find similar things in my own personality. As far as The Dude goes, I had a lot in common with The Dude in my younger years. A lot of the clothes he wears are mine—the jelly sandals, the T-shirts, and so forth, and you mentioned 'abiding,' and I share that with The Dude."