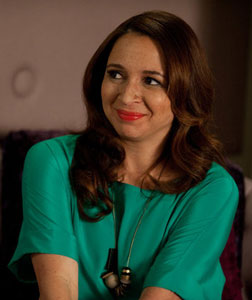 In a recent interview with Terry Gross on NPR's Fresh Air, comedienne Maya Rudolph opened up about how hectic her life was during her Saturday Night Live days and her grossest scene in last year's box-office smash wedding comedy Bridesmaids.
"Before I had children, everything about my life was devoted to Saturday Night Live," she said about NBC's trademark sketch show, which she returned to co-host in February after leaving as a regular cast member in 2007. "You're there sometimes on Tuesday nights until 6 or 8 in the morning. You're exhausted, you're loopy and you've had three shows in a row, and you haven't done any of your laundry, and you have no food in the fridge."
If Rudolph made it out with all of her wits intact, it was thanks to the tight-knit SNL cast, which included comedic luminaries like Tina Fey, Fred Armisen, Amy Poehler and Andy Samberg over the course of her time there. "I came from the co-ed touchy feely group," remembered Rudolph. "You help look out for each other and talk to each other about what's going on in your life elsewhere. You just experience everything together."
All those nights appear to be well worth it, as Rudolph has remained very productive in her post-SNL days. She currently stars on NBC sitcom Up All Night and has starred in several movies, including 2009's Away We Go, Bridesmaids and Friends with Kids, an indie comedy that's currently in theaters.
On the most famous scene from Bridesmaids, which involves fecal matter and a high-end bridal dress shop to put it gently, Rudolph said: "I think it plays beautifully — because we all improvised trying to keep it together as best we possibly could. The final result is people saying that they are fine when their faces are completely flushed and they're sweating — but they're still talking about dresses."