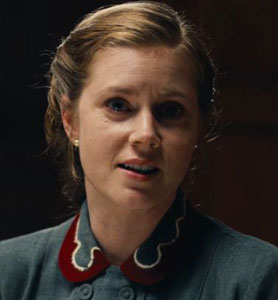 In her career, Amy Adams takes on completely varied roles, jumping between comedy (Julie and Julia) and drama easily.  Her newest role in Paul Thomas Anderson's The Master required Adams to color in her own back story as the wife of a Scientology-like religious leader.
"I tend to try to fill in the blanks as much as possible for myself," Adams said in an interview with NPR.  "One of the things that I really thought about was a long time ago, I read a book called The Feminine Mystique.  In The Feminine Mystique she talked a lot about women's roles in World War II and sort of how that translated post-World War II.  Their roles were a little less traditional than they'd been before, and then when the men came back, they sort of went into the background again.  And I saw my character as somebody who was very focused on education, was very educated, very smart, but given the climate, felt like she was more powerful behind a man than in front of a man."
Adams enjoyed the challenge of playing a character who displays her strength.  "It was both a relief and challenging," she said.  "I mean, in that this woman has to be perceived by the outside world as being somewhat meek.  She's not somebody who would embarrass her husband by stepping to the forefront in a public way.  So in some ways, there are similarities to other characters that I've played.  But there's a steeliness in her that really was a lot of fun to play."
"I mean, I can be really steely, maybe not to such effect, but I'm definitely not always warm and cuddly and sunshine and lollipops, so it's nice to sometimes get to bring that to a role.  Although I do love playing characters with a sunny disposition, it just takes a little bit more energy some days."
The Master comes out Friday, September 21.