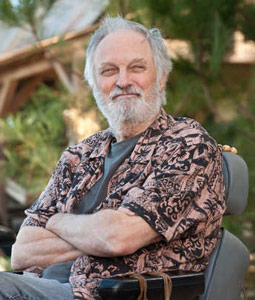 While he'll always be best known as Hawkeye from the eleven-season run of TV's M*A*S*H, Alan Alda has been appearing in films since the 1960s, and next appears in Wanderlust, starring Paul Rudd and Jennifer Aniston as a couple who moves to a free-love commune. 
Alda plays the role of Carvin, the founder of the community, and though producer Judd Apatow and director David Wain initially didn't believe Alda would even be interested, the veteran actor reveals that not only did he research the role extensively but he also appreciated the opportunity to work with improv humor.
Though he has decades of acting experience to draw from, Alda wasn't going to leap into the film without doing a bit of research.  He researched the type of free-love communes portrayed in the film and was surprised at what he found, explaining, "I looked up communes and found out that they actually still exist, except now they call them 'intentional communities.'  But some are polyamorous, meaning they're amorous all over the place.  I thought these places were just a thing of the '60s and '70s, but apparently they are still common."
Once filming started, Alda quickly found his niche in the improvised comedy of the shoot.  Though Alda has worked with some incredible screenwriters, he does have a soft spot for improv, revealing, "I love improv.  I improvised early on at Compass and Second City.  When you're improvising, you have to pay attention to one another.  That often leads to more intimate performances.  Sometimes after I see a movie I think, 'How did they get those magnificent performances?' And then I find the movie had been largely improvised."
Wanderlust opens in theaters on Friday, February 24.