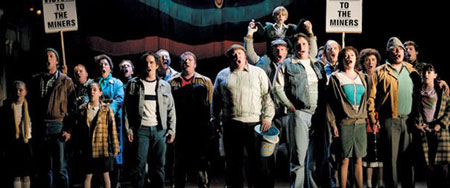 Broadway actors already know that their Saturdays and Sundays aren't really weekends — in fact, they are often their busiest days.  But on the other side of the Atlantic, many of London's West End theatres are actually closed on Sundays to give actors the day off. So how do West End actors feel about the possibility of their Sundays becoming working days, too?  The answer to that question is currently being decided, which could potentially open the door to London actors working as much on the weekends as their American counterparts, if not more.
Members of Equity, the union which represents actors in West End theatres, are currently voting on a number of union issues, including new regulations for Sunday performances.  While theatres are currently allowed to have up to two Sunday performances  — at this time nine shows have performances on Sundays — the final decision is left to the cast, who typically decide against it.  However, if the new deal is approved the decision on Sunday performances would by made by theatre owners and producers, who would only need to give actors eight weeks' notice.
Actress Jennifer Bryden, who currently stars in The 39 Steps (which currently does not have performances on Sundays), supports the proposed new rules regarding pay and sick benefit increases but is less thrilled with the idea of Sunday performances. She tells The Independent, "While I don't wish to undermine the hard work our union puts in fighting in our corner, it does seem to me that the compromises outweigh the benefits.  Actors already work antisocial hours in regards to leading a normal family life, and to eat into this time any more is too much of a sacrifice."
Roger Allam, who will play Prospero in the upcoming production of The Tempest at the Globe Theatre, is also against the proposed change.  Though The Tempest is scheduled to run two performances on most Sundays, Allam is worried about being forced to do one show on Friday and double shows on Saturday also.  He says, "I'm dead against it.  I was against it when we moved to Sunday performance as more or less normal. Having two shows on a Saturday and a Sunday is just a nightmare if you've got kids. It's awful. It's just absolutely dreadful. I wouldn't sign a contract for five shows over the weekend. I just wouldn't do it."
Nevertheless, Equity expects the measure to pass.  However, the question remains on how actors who don't wish to work on Sundays will respond if it does now that they no longer can control their weekend calendar.
via The Independent