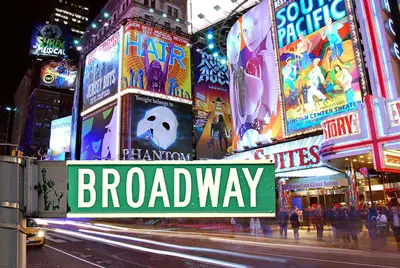 People who work in Midtown Manhattan, take note: your favorite lunch spots are about to get more crowded on Thursday afternoons, and more coach buses will be clogging the streets.  This is because three Broadway musicals will begin offering Thursday matinee performances in order to offer variety to tourists and tour groups.
Though Wednesdays and Saturdays have traditionally been the days when Broadway shows had matinee performances, beginning April 3, 2014, three Broadway shows — Cinderella, Mamma Mia! and The Phantom of the Opera — will start having Thursday 2:00 PM performances.  Per union rules, the musicals will have to eliminate another performance during the week in order to add this Thursday performance.  However, this would offer tourists (whom this decision is chiefly concerned with) the option of seeing both a Wednesday afternoon show and a Thursday afternoon show, therefore seeing two different musicals during their stay.
Though Broadway's previous experiments with offering additional matinee performances have been unsuccessful (unlike West End's varied matinee schedule), producers of the three musicals are hoping that announcing the schedule change months ahead of time will increase awareness of the new performance times. The fact that three shows are doing it also makes it more of a significant, newsworthy change.  
The change is primarily a business one, though all three shows are not making the same schedule changes.  One of the producers of Cinderella, Robyn Goodman, pointed out that the show's maitnee performances are popular with tour groups and generally have stronger ticket sales (in particular, Wednesday nights are the musical's slowest).  Cinderella's eight weekly performances will be evenly split by four matinee performances and four evening performances.  On the other hand, Mamma Mia! and Phantom of the Opera are simply swapping their Wednesday matinee performance for a Thursday matinee performance.
If successful, we can probably expect other Broadway musicals and plays to experiment with a varied performance schedule to offer more choices to audiences.
via Crain's