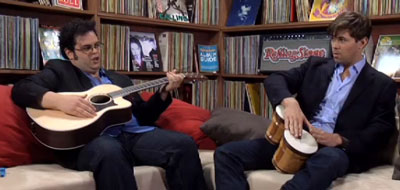 The Book of Mormon's Josh Gad and Andrew Rannells went to Rolling Stone's offices in New York to, well, F around.
As Gad strummed on a guitar and Rannells banged on some bongos, the two sit around riffing on things like Gloria Estefan, wanting to have sex in a Cinnabon (who doesn't?) and how they would pitch the show to actual Mormon's.
When Gad asked how Rannells got his start as an actor, Rannells says that he won a "walk on role on Blossom." He then admits it's a lie then the conversation goes downhill from there but in the best way possible.
My favorite line? "Suck it, Wicked."
Watch it!