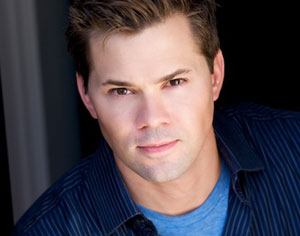 During rehearsals for his Broadway play The Book of Mormon, Andrew Rannells decided to go "method" and pay a visit to the Latter-day Saints New York visitors' center and meet some real-life missionaries.
"I wandered in and there's a security guard, and I said I'm just looking for some general information, and he let me wander," Rannells says. "I mean no one stopped me. Maybe because I look Mormon?"
He can thank Trey Parker and Matt Stone, the masterminds behind both "The Book of Mormon" and "South Park" who, along with songwriter Robert Lopez, have made this show the most talked about Broadway comedy since "The Producers." For those who dream of scoring tickets: well, keep dreaming.  The show is booked well into the summer and the NYPD have an open investigation concerning counterfeit tickets.
"Mormon" tells the story of two innocent and inexperienced missionaries plucked from suburbia who are then dropped into a war-torn and AIDS-ravaged Uganda, where they are assigned the task of convincing villagers there is a God who happens to have revealed his most sacred teachings to a treasure-seeker turned preacher in upstate New York in the 1820s.
Rannells plays Elder Price and co-star Josh Gad's plays Elder Cunningham, the two leads in the show. Rannells is the straight man in "Mormon" while Gad is more the comedic goof.
"I got to be funny — and a lot of times you're not supposed to be," says Rannells. "I've certainly played those leading man or male juvenile roles, where you're not supposed to make people laugh." But in this show he says, "they let me sort of explore that and what is funny about that guy and also to make him quirky and weird in his own way."
While heavily laced with profanity and humor that can ONLY come from "South Park" creators Trey Parker and Matt Stone: Holy Scripture forcibly inserted into the backside of one character by an African warlord whose name is mostly unprintable, "The Book of Mormon" has garnered not only rave reviews, but its fair share of  Tony nominations, as well.
via wwd.com