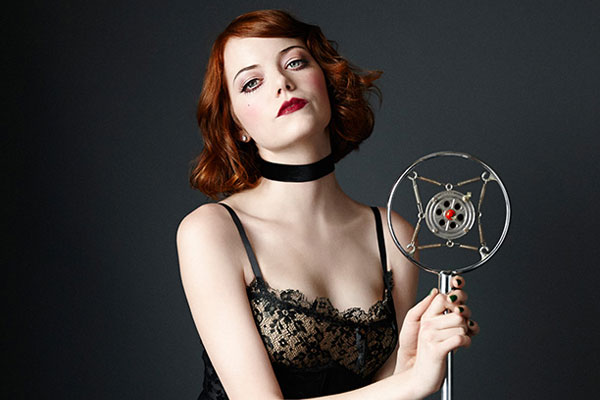 Cabaret is bringing in another Hollywood heavy-hitter from the big screen who is going to test her mettle on Broadway. Emma Stone is replacing Michelle Williams in the revival of Cabaret beginning Nov. 11.
Stone was fortunate enough to see the 1998 show starring Natasha Richardson. She explained to The New York Times how it changed her perception, "Listening to Natasha Richardson, I realized you could be an actor in a musical and not have the perfect voice I'd heard on cast recordings."
That inspired her to tackle the role once Williams ended her run. Stone shared, "I don't have this gorgeous untouchable voice, and it was Natasha who really lit a fuse under me to try musicals and play Sally someday."
The Easy A actress was supposed to originated the role in the current revival, but had to drop out suddenly. Williams stepped into the role to replace her.
Stone said, "I'd said goodbye to the idea of ever playing Sally on Broadway, and it upset me; it really upset me. But I think it also helped me learn about having a real work-life balance, as cliché as that sounds."
The star had The Amazing Spider-Man 2 publicity obligations that took priority over any other work, according to her contract. While the producers figured out a schedule to allow Stone to miss a few previews and over a dozen regular shows, something had to give because it would have been grueling.
"There was one day on the schedule where I would land from Tokyo in the morning and have enough time to make it to perform in that afternoon's matinee," she said. "I realized that this schedule would turn the dream of playing Sally into a kind of nightmare. It felt like forcing something that wouldn't fit. But I was telling myself I can do this, and everyone wanted to make it work, and it's hard to say no when people are being so accommodating. But part of me also thought, 'It's going to kill me.' "
Stone didn't give up her dream of playing the role. When she came to see the show early in the run, she spoke with Roundabout Theater Company's artistic director Todd Haimes about still wanting to play the role. The production started making plans to have The Help star replace Williams at the end of her contract.
Stone said, "It was weird to think of wearing someone else's clothes. But this was my chance to do Cabaret with Alan and in Studio 54, and that would never happen again."
She summed up, "I'm not doing Cabaret because I'm trying to reinvent myself or because I have some crazy idea that I've earned it. Trust me, I'm not walking around deluding myself thinking: 'I'm Patti LuPone! I'm Bernadette Peters! Get me my dressing room!' I'm just glad the chance came around again to earn my stripes as Sally."