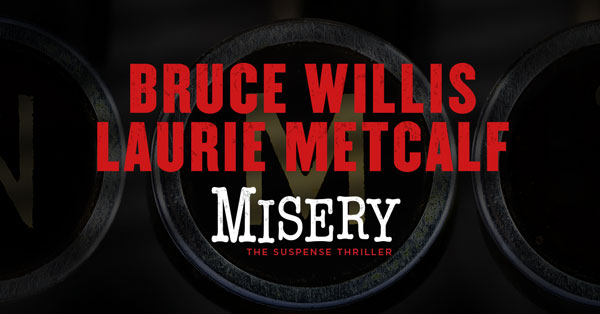 Shubert Alley is always a crowded corridor of Broadway, particularly now with the popular Phantom of the Opera, Matilda, and Hand to God being performed in the immediate vicinity. But over the past week crowds have swelled considerably outside the Broadhurst Theatre because of two names on the marquee: Misery and Bruce Willis. In what seems like the stuff that Halloween dreams (nightmares?) are made of, Stephen King's horrific tale of an obsessed fan that holds her favorite writer kidnapped has made it to Broadway.
Of course, the main draw here is Hollywood star Bruce Willis making his Broadway debut as novelist Paul Sheldon. While Willis is a veteran of off-Broadway work in the early days of his career, Misery marks his first time performing on Broadway. Blockbuster actors doing plays on Broadway is nothing new, but it's been quite some time since a star of Willis' caliber was making his or her Broadway debut. It's interesting to see an actor best known for physical action hero roles spend most of his time on stage confined to a bed. It's certainly a challenge for Willis, whose film career has mostly been defined by playing characters of stoic expression, to project himself to a theater audience.
While this is Broadway, don't worry if you are still recovering from The Return of Bruno. Misery isn't a musical and you won't hear Willis singing. This adaptation of Misery was written by famed screenwriter William Goldman, and though the credits say that it is "based on the novel by Stephen King" it would be more accurate to say that it is based on Goldman's 1990 film adaptation of King's 1987 novel. The production is presented by Warner Bros. Theatre Ventures and Castle Rock Entertainment, the companies responsible for the film. Audiences familiar with the classic movie starring James Caan and Kathy Bates (who won an Academy Award for her frightening portrayal of obsessed fan Annie Wilkes) than the novel will find this adaptation very similar. It recreates most of the 107 minute film in a brisk 90 minutes with no intermission. In a lot of ways it's almost like a staged reading of the movie's script because much of what was on screen is on stage here. Not surprisingly, the highlight of the production is the infamous sledgehammer scene, which is shockingly reproduced on stage in a cringe-inducing manner.
Misery is also Goldman's first work to be produced on Broadway in over forty years, and it's the first work by Stephen King to appear on Broadway since the ill-fated Carrie musical in 1988. While the names of Willis, Goldman, and King might be the main draws, the real star of the production is stage, film, and television veteran (and two-time Tony Award nominee) Laurie Metcalf, who plays the psychotic Annie. Metcalf, who replaced the originally-cast Elizabeth Marvel, brings the same "cock-a-doodie" cruelness to the role that Bates did. Misery also marks the Broadway debut for director Will Frears, who has directed plays just about everywhere except for Broadway.
One of the most extraordinary aspects of the production is the scenic design by David Korins, who has shockingly never been nominated for a Tony for his set designs despite his extensive credits (though that is sure to change since Korins designed the sets for the Tony favorite Hamilton). Korins has built Annie's farmhouse on a rotating platform that gives the audience three set pieces from inside the house as well as the front porch.
Now in previews, Misery opens on November 15 and runs through February 14 (seems appropriate in a twisted way, doesn't it?) For more information, you can follow Misery on Facebook, Twitter, and Instagram or visit MiseryBroadway.com.