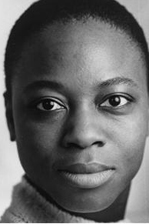 Before British actress Aicha Kossoko took the stage for a recent performance of The Taming of the Shrew at the Royal Shakespeare Theatre, someone surely told her to "break a leg," without actually wishing that one of her limbs would snap in half.
Unfortunately, the long-time pre-performance pleasantry came true for Kossoko, who broke her ankle after catching her shoe on an oversized bedspread during a show last month.
Director Lucy Bailey's update of William Shakespeare's classic Taming of the Shrew calls for the theatre's thrust stage to be converted into a giant bed that includes the one-piece bedspread Kossoko tripped over. The Royal Shakespeare Company rookie, whose resume includes stints of TV shows like EastEnders and Doctors, finished out the night but since been temporary replaced by an substitute actress. 
"Aicha Kossoko fractured her ankle as a result of slipping over whilst exiting the stage. She continued to the end of the performance, and is now having treatment," explained an RSC spokesperson. "We will continue to monitor the situation and hope that Aicha will return to play her roles."