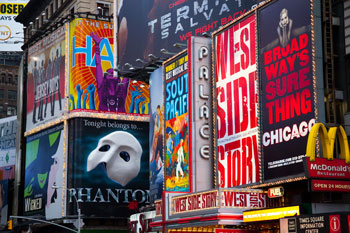 There is a lot of pretty good news for Broadway in the Broadway League's annual "Demographics of Broadway" report for the 2011-2012 season.
While attendance was slightly down versus the 2010-2011 season (12.33 million vs. 12.54 million), grosses were the highest ever in Broadway history, rising to $1.139 billion from last season's previous record of $1.08 billion.  Of course, this also means that unfortunately average ticket prices continued to rise, with this season's average ticket price rising to $92.37 from last season's previous record of $86.21. 
In addition, Broadway remains to grow as a tourist destination, with tourists making up 63.4% of the record 12.3 million people who attended Broadway shows this season (up from last season's 61.7%).  Of that, 18.4% were from visitors from other countries.
Audiences also were more diverse.  While the percentage of white patrons declined 82.5% in 2010-2011 to 77.8%, there were slight raises in Asian theatergoers (6.5% from 4%) and Hispanic audiences (6% from 5.7%).  However, the largest increase was in black audiences, which rose to 5.4% from 1.5%.  It's worth noting that plays like The Mountaintop, which starred Samuel L. Jackson and Angela Bassett, drew large African-American audiences this season.  Audiences remain predominantly female, making up 67% of this season's audience.  Average age of ticket-buyers inched down to 43.5 years old from 2010-2011's 44.
Of course, there remain a core group of rabid fans.  While just 5% of the audience saw fifteen or more shows that year, that accounts for 29% (3.6 million) of all admissions.  In addition, a majority of theatergoers see two or more shows a year.
You could check out the rest of the statistics at the Broadway League and additional statistics from Deadline.