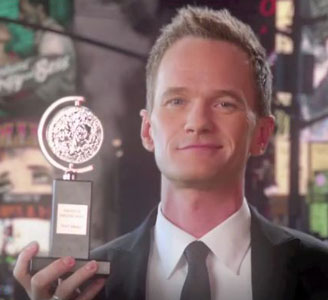 While the Oscars can't seem to find someone who wants to host more than once (except for Billy Crystal, who probably clears his calendar every year just in case), the Tonys will be going with a regular: Neil Patrick Harris.
The 2013 ceremony will be Harris' fourth time hosting in five years (Sean Hayes hosted in 2010).  He's gotten great reviews each time out, so why not?  According to the New York Daily News, which broke the news yesterday (everyone else confirmed it today), Harris has "quietly" been going to all the nominated shows over the past few days.  Therefore we can probably expect the usual song and dance greatness Harris can bring to the stage riffing on the nominees and nominated shows.
"I'm very excited to be back hosting the Tony Awards at the legendary Radio City Music Hall. It'll be more impressive than ever – if my math is correct, it will be 267 times bigger than last year," said Harris. "Oh, wait.  No, that can't… hold on… carry the one… I'm awful at math.  But rest assured, the show will rock!"
The Tony Awards will air on CBS on June 9.