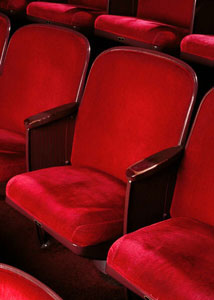 Here's a curious investigative piece: are Broadway seats too small, and, in the case of some theaters, are they even getting smaller?
It's no secret that Americans in general are taller and fatter than they were when some of Broadway's most famous theaters were originally built.  In fact, the Wall Street Journal reported last week that one in four New Yorkers are considered "obese".
The Awl tries to find an answer to those questions with statistics from a 2004 New York Times study and from interviews with leading Broadway critics and producers.  The findings more-or-less point to one conclusion: Yes, they're small, and no, they won't be getting any bigger anytime soon.  Terry Teachout, the drama critic for the Wall Street Journal, attempts to explain why by telling The Awl, "It depends—usually—on the age of the theater in question, and whether that theater has been renovated in modern times. Houses built prior to World War II typically have narrower seats, undoubtedly because Americans have grown fatter in recent years.
Legroom has also shrunk in most Broadway houses, the same way that it has on airplanes and for the same reason: to cram in more people. That problem, however, has nothing to do with the age of the house. (Lincoln Center's Vivian Beaumont Theater, which opened in 1965, is notoriously difficult for long-legged people.) In addition, the width and 'pitch' of theater seats also varies within a given theater. Generally speaking, though, these two rules apply: (1) The smaller the house, the smaller the seats. (2) The cheaper the seats, the bigger the problem."
As an aside, this issue has been tackled differently by other forms of entertainment — in particular, sports.  When the New York Mets got a new stadium in 2009 (Citi Field), the width of the seats grew by 2 inches on average and the legroom increased from 1 to 7 inches all over the park in comparison to the Mets' former home, Shea Stadium.  Likewise, the new Yankee Stadium, which also opened in 2009, increased seat width by 1 to 2 inches and legroom by 3.5 to 9.5 inches over old Yankee Stadium!  Both stadiums also saw a reduction of thousands of seats in comparison to their predecessors in an effort to bring closer views of the field, and (of course) to maximize sellouts in the new stadiums.
Of course, Broadway doesn't have those options: in particular, removing seats to maximize sellouts would severely cut into the potential revenue a show could generate.  In fact, Broadway producer Elizabeth McCann suggests that Broadway theaters are actually doing the opposite, claiming "The Hirschfield theatre has more seats than it originally did, the St. James has more seats than it originally did. They all do. They're constantly trying to put more seats in the house to boost revenue."  McCann does admit, however, that the additions of seats could hurt an audience's enjoyment of the show, "If the audience is seeing a 1st act that's over an hour— they're going to get restless.  It's not only about uncomfortability, it's their ability to understand the plot."
Personally I've never had a problem with a small seat in a Broadway theater, but admittedly I'm a rather small guy.  Any readers out there have any uncomfortable stories about small theater seats hurting your enjoyment of a production?  Let us know in the comments below!