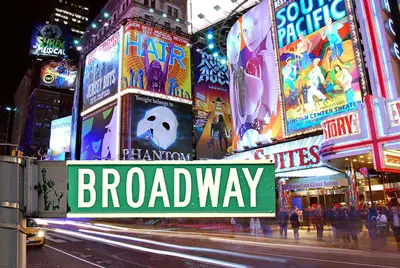 Last week, I analyzed examples of the most successful examples of star casting on Broadway in recent years.  While those productions are on the top tier, other productions don't fare as well – with some even closing early, which is usually considered a major embarrassment for the star in question in additional to the significant financial loses faced by the producers.
A recent example of a production that closed early is Orphans, which starred Alec Baldwin, which provides a microcosm of all the reasons why a production starring a famous actor can fail.  Baldwin caused a minor commotion when he largely blamed the early closing of Orphans on New York Times critic Ben Brantley's negative review.  However, there are a myriad of other reasons that seem for more likely the cause of the early closure.  First, it seems that the bad publicity stemming from Shia LaBeouf and Baldwin's public feud – which both actors fed in the media – had a negative impact on potential audiences (in his rant Baldwin blamed this also, but didn't exactly take his share of the blame).  However, Baldwin's $50,000 per week salary was more likely a major culprit considering that while Orphans sold well (an average of 82% capacity for its 64 performances), the average paid ticket price was $71.99, way below the top ticket price of $225.  That indicates that few premium seats were bought at face value, which significantly hurt the amount of money the production made.  
Also, timing is everything on Broadway.  Add those issues to the boneheaded decision of overlapping the play's run while megastars Tom Hanks and Bette Midler are also on Broadway (as well as several very successful musicals) and Baldwin and Orphans never had a chance.  Sure, a better review from the Times wouldn't have hurt, but Baldwin's salary and the fact that there were better productions and bigger draws down the street likely had more to do with its early closing.  Similarly, 2012's Dead Accounts, which starred Katie Holmes, also closed early (71 performances) after only selling at an average of 56% capacity at an average paid ticket price of $78.99 while up against Al Pacino's Glengarry Glenn Ross and the Broadway Christmas season. 
Of course, it could have been worse – 2012's The Performers, starring Henry Winkler and Alicia Silverstone (whom — with no disrespect intended — are certainly not A-listers in 2012), closed after 24 previews and 6 performances after never selling more than 67% weekly capacity and the average paid admission for the whole run only amounting to $37.48 since a "Hurricane Sandy" discount slashed ticket prices.  Yet even decent sales can spell doom for an expensive production.  Also in 2012, The Anarchist, which was written and directed by David Mamet and starred Broadway veteran Patti LuPone and actress Debra Winger in her Broadway debut, closed after 23 previews and 17 performances despite having a 71% average weekly capacity with an average paid admission of $73.09.  While that's nearly double the average paid ticket price of The Performers, it still wasn't enough to stop The Anarchist from closing early.
Others might complete their runs, but still do poorly.  For example, Robin Williams made his Broadway debut in Bengal Tiger at the Baghdad Zoo in 2011.  While the play completed its originally scheduled run, ticket sales were generally awful for an actor of his popularity.  However, those expecting to see the zany Williams of his films and stand-up comedy shows were possibly put off by his subdued performance and the play's somber setting during the Iraq War, and word-of-mouth likely contributed to the production playing to half-filled houses from its fifth week on.   Not only did Williams star in a play that went against his usual persona, but it was also a play that was unfamiliar to most audiences.  While Williams should be commended for that, it likely hurt the box office. 
Here is a sampling of productions which ranged from doing solid business to closing early:
 

Performances

Avg.
Weekly
Attendance

Avg.
Paid
Ticket

The Mountaintop (2011-12) – Samuel L. Jackson

141

82%

$87.88

Orphans (2013) – Alec Baldwin*

64

82%

$71.99

Exit the King (2009) – Geoffrey Rush
& Susan Sarandon

114

81%

$69.11

The Heiress (2012-13) – Jessica Chastain

144

78%

$90.84

A Behanding in Spokane (2010)
– Christopher Walken

128

75%

$71.84

Cat on a Hot Tin Roof (2013) – Scarlett Johannson

118

74%

$97.32

Equus (2008-2009) – Daniel Radcliffe

177

67%

$85.93

33 Variations (2009) – Jane Fonda

116

57%

$62.68

Bengal Tiger at the Bagdhad Zoo (2011)
– Robin Williams

131

56%

$81.57

Dead Accounts (2012-3) – Katie Holmes*

71

56%

$78.99

A Life in the Theatre (2010) – Patrick Stewart*

80

54%

$57.94
* Closed early
As you can see, there is no "magic number" across the board that would result in a play closing early.  While Baldwin's Orphans sold more tickets per show on average than almost every other production on the above list during its abbreviated run, production costs must have just been too high to keep it afloat on those figures (in other words, spread across more performances that percentage would have certainly dropped).
Curiously, three actors appear on this chart and my Successful chart – Scarlett Johansson, Daniel Radcliffe, and Patrick Stewart.  Stewart's A Life in the Theatre was a disaster considering his popularity (and the popularity of the play's author, David Mamet), yet only two years earlier Stewart starred in a very successful production of Macbeth.  However, that in itself could have been the problem: two years is a relatively short time in the Broadway theater business, and audiences that saw Stewart in Macbeth might not have been willing to pay to see him in something so soon afterward.  In addition, Macbeth had a shorter run (just 63 scheduled performances), which created more of a demand, and, after all, it was Patrick Stewart doing one of Shakespeare's most famous plays.  What theater fan wouldn't want to see that?
Radcliffe is a more interesting case because his more successful production came after.  Radcliffe made his Broadway debut in Equus, a dramatic play about a teenager who is undergoing psychiatry after blinding six horses.  In other words, not exactly the type of work young Harry Potter audiences would flock to.  However, contrast that with Radcliffe's year-long run in the musical revival How to Succeed in Business Without Really Trying (something obviously much more mainstream) which sold a fantastic weekly average attendance of 94% capacity for the entire year.  Any producer would be thrilled with that kind of sustained success.
Johansson is perhaps the easiest case to explain.  Cat on a Hot Tin Roof was last on Broadway only five years previously in a very successful production featuring a popular ensemble cast that included Terrence Howard, James Earl Jones, and Phylicia Rashad.  That alone might explain why it didn't sell nearly as well as Johansson's Broadway debut in 2009-10's A View from the Bridge (itself also a revival, but not as recent).  Or perhaps like Stewart the novelty of seeing Johansson on Broadway had been filled by her previous appearance.  Whatever the case, audiences were less interested the second time around (a problem not faced by Hugh Jackman or Al Pacino, who have both starred in two very successful productions in recent years).
So for the most part it seems like star casting is just as risky as any other way to launch a Broadway show considering the expense.  With names like Rebecca Hall, Rebecca Weisz, Rafe Spall, Zachary Levi, and Orlando Bloom making their Broadway debuts over the next few months and veteran Broadway stars like Ian McKellen, Patrick Stewart, Daniel Craig, and Billy Crudup returning, star casting isn't going anywhere until it proves to be more expensive than it's worth.  Of course, producers will always be hoping for Lucky Guy successes rather than The Performers disasters. 
It's just too bad Hugh Jackman and Al Pacino can't be in everything though… at least as far as producers are concerned!