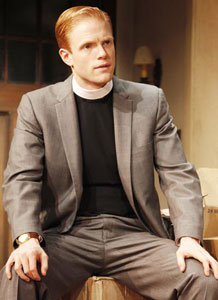 Despite being eligible for the Tony Awards this year (and winning the Tony for best play), Clybourne Park originally debuted at New York's Playwrights Horizons in February 2010. It then bounced across the Atlantic for its London premiere in August 2010, and ended up in several American cities before finally returning to New York, this time on Broadway, earlier this year. 
Originally set for a 16-week run, the play has recently been extended by three weeks because of strong sales.  One of the actors enjoying that success is Brendan Griffin, who appeared in the original Playwrights Horizons production.
But Griffin didn't always intend to be an actor.  As he tells his hometown newspaper the Pittsburgh Post-Gazette, he was involved in sports in his youth.  Griffin explains that he switched to theater as a senior when he stopped enjoying playing football, saying, "I realized I wasn't having fun anymore. You know how competitive it is, how serious football is in Western Pennsylvania." 
After graduating Kenyon College with a degree in drama, he moved to New York City and soon found himself intimidated by other musical actors in the city.  He recalls, "they were Mandy Patinkin-caliber singers.  I'm a good singer but I didn't have the money to cultivate that, to hire a voice coach, long range. I didn't have any dance training so I couldn't go to a dance call."
Griffin was eventually cast in the original production of Clybourne Park, but at first it seemed unlikely that the show would be the success it ended up becoming.  He explains that 2010 "was the year Broadway was really heavily dominated by Hollywood actors: Scarlett Johansson and Denzel Washington both won Tonys and there was Catherine Zeta-Jones [winning for A Little Night Music].  We didn't have any 'star' names in our cast, and there wasn't really any possibility for it to find the [production] funds to take it up the street."
Though Griffin took roles in between in theater and in a film, he was proud to come back to the Broadway production of Clybourne Park.  He is marveled by the effect the play has on audiences, pointing out,"People come in thinking they're going to see a play about race and real estate, and they end up walking away having seen a play about so much more — in effect, seeing a play about themselves.  And that's an uncomfortable place to live in for a couple of hours. But if you're available to it, it can be a pretty informative experience."
Clybourne Park runs through September 2 at the Walter Kerr Theatre.