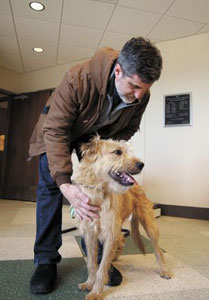 While to most of us the world might seem like its going to the dogs, one dog in Tennessee is finally having her day.
A one-year old terrier named Porky had been turned into the Columbia, Tennessee Maury County Animal Shelter last November, and, since she has not yet been adopted, she was sadly scheduled to be euthanized.
Volunteers at the shelter were desperate to find a home for Porky before she was put down and hoped a mass e-mail campaign would find a loving owner.  But they never expected that they would receive an e-mail from Broadway veteran Bill Berloni, who received a special Tony Honors for Excellence in Theatre Award in 2011 for his decades of training animals for the Broadway stage — including the original production of Annie, the upcoming 20th Anniversary revival, and numerous national tours of the production.  Berloni is interested in casting Porky as Sandy in the 35th Anniversary Broadway revival of Annie.
Berloni later said that Porky "sailed through her audition" and will head out to Connecticut to meet with revival director James Lapine.  If Porky gets the thumbs up, she'll be in training until the show hits Broadway in September.  Even if Porky doesn't get picked, master trainer Berloni has a waiting list of possible owners who will no doubt take Porky in.  Berloni traditionally trains rescued animals for theatre, film, and television, and has been honored by both the American Society for the Prevention of Cruelty to Animals and the American Humane Association for his work.
While it's a great story, it's also fantastic PR for a well-loved Broadway show that is all about adoption, too.  Let's hope Porky has more success than her Australian counterpart, who was cut from a production because of stage fright last month!
Via Columbia Daily Herald