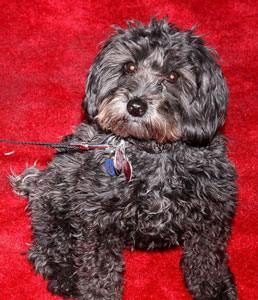 What's with animals on Broadway this season?  Not only do we have a cat in Breakfast at Tiffany's and a dog in Annie, but another pooch has taken the stage in the revival of Pippin.  However, Porridge the dog isn't some superstar stage dog.  In fact, the poodle-mix is owned and trained by Matthew James Thomas, who also stars in Pippin at the Music Box Theatre.
Thomas, a UK actor who debuted on Broadway in Spider-Man: Turn Off the Dark as the alternate Spider-Man (performing in two shows per week), bought Porridge from a rundown pet store after moving to New York City.  He explains to The New York Post, "Through the window, I saw a little black dog curled up in a cage, and he just looked at me."  Though he took a brief trip to Starbucks to convince himself to stick to his original plan of adopting a puppy from the Human Society, he couldn't help himself and returned to buy Porridge, whom he named after a family dog that had once saved the life of Thomas' mother.
While Thomas was rehearsing for Pippin after leaving Spider-Man, he brought Porridge to a rehearsal.  The dog's focused behavior intrigued director Diane Paulus, and she decided to cast Porridge in the play in a small role that has become a hit with audiences.
So how did Thomas become a dog trainer during the demanding hours of a Broadway actor?  Though Porridge is well-trained, Thomas admits the training wasn't actually difficult.  "Sometimes I just take away his favorite toy," he explains.