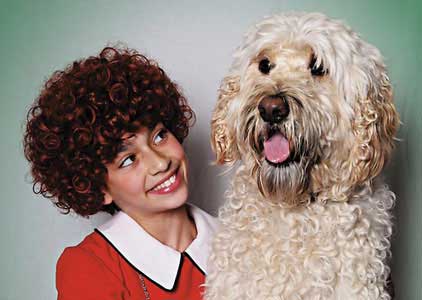 "Never work with children or animals," one said early film comedian W.C. Fields.  As far as the current Australian version of the musical Annie is concerned, the second part of that quote might have something to it. 
The Sydney Morning Herald reports that during opening night of the latest production of Annie at the Lyric Theatre in Sydney, the dog playing Annie's loyal companion Sandy — Coogee, a one-year-old groodle — didn't cooperate as planned. 
The problem?  Stage fright!
"As soon as he saw the audience and heard them, he looked really uncomfortable and nervous," says production assistant Fritha Truscott. "He had his tail between his legs and he looked scared. We didn't want to put him through that night after night."   To avoid future problems, Coogee has been cut from the production with an "understudy," Mickey, taking Coogee's place along with various other dogs (of various breeds) belonging to the cast and crew to fill in the second dog role in the musical — that of a stray.  Currently Chino, a Maltese-shitzsu owned by actress Chloe Dallimore is playing the role of the stray while Mickey continues to be the top dog.  Nonetheless, the production is looking for a permanent, full-time lead dog.
Of course, the biggest problem was breaking the news of Coogee's "firing" to the cast — a great of deal of which is made up of children under ten.  Truscott explains that the children were told that Coogee "resigned," but "Some of the girls were really sad, especially the seven and eight-year-olds."