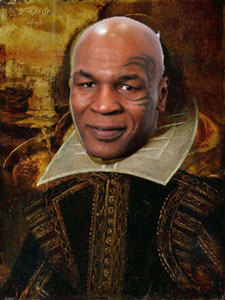 While he never garnered great reviews, Mike Tyson just completed a three-month tour of one-man show Undisputed Truth across the United States.  Snicker all you want, but Tyson has built up with a noteworthy acting resume over the last few years, with scene-stealing cameos as himself in The Hangover and The Hangover Part II and a featured role in an episode of Law & Order: Special Victims Unit.  However, Tyson is adamant that he plans on continuing his acting career, and even has a specific Shakespeare role he would like to tackle some day.
He revealed his knowledge of the Bard to reporters a few days before his show ended its run in Chicago by asking, "Wouldn't Shakespeare be awesome?  That black guy … could you imagine me in Othello?"
Tyson later backpedaled a bit on whether he was prepared to play the Moor of Venice, but also confesses that he believes he can do it, saying, "Anything you give me time to prepare, I can do.  I don't think I am ready for that yet, but I would like to try."
He even gave an honest assessment of his skills as an actor, pointing out, "My career as an actor has blossomed.  I never considered myself a comedian or actor, even though I was in movies and shows helping out friends … a lot of my friends are actors and directors and they say, 'Mike, we need you to concentrate and take it seriously.' They say my skills are horrible, but I have the natural timings for it. I am working on my skills."
So even if he doesn't feel ready for Shakespeare, he would love to have a shot at being an action star in Sylvester Stallone's next Expendables movie.  He reveals, "Nobody has called me and I would love to be a part of that 100 percent.  I need people to direct me and I will give it the best I can possibly give. I just need to be directed, that's all."
Hmm, come to think of it is it harder to make it as an actor or to become a championship boxer?  Maybe aspiring actors should quit fighting each other for roles in acting school and start fighting each other in the ring.