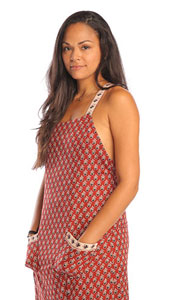 Karen Olivo had the career many aspiring New York actors dream of: Broadway shows listed on her résumé, a Tony Award and even a series regular job on the show Harry's Law. Yet she packed up and moved to Wisconsin in late 2012 after she decided she needed a change in her life.
She shared what her mindset was like at the time with The New York Times.
Olivo explained, "I was a full-time actor with very little personal life, and now it's a fraction of my life. I was also operating like an actor in life, which is scary — constantly wanting people to like me and thinking that I had to promote myself and the truth is, in life, you don't need to do that."
In fact, the 37-year-old star felt she needed to have "regular conversations with people about things that have nothing to do with pilot season or what is going to be nominated for a Tony."
The former West Side Story actress now spends her time teaching musical theatre performance at the University of Wisconsin, Madison while working on a CD and collaborating with the company Theater Lila. She made a recent return to the New York stage for a short run in Tick, Tick … Boom! for Encores! Off Center. It was actor Lin-Manuel Miranda who convinced her to do the production.
One key thing Olivo has learned during her time away is that performing is less of a chore to her now.
She summed up, "It was easy, and that is hard to say, and I think it had to do with the fact that I loved doing it. I wasn't trying to do it because I was thinking about reviews or expectations or anything like that. That wouldn't have been able to happen years ago."