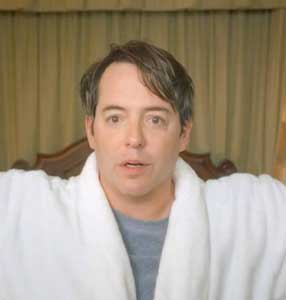 By now it's no secret that Honda is airing a commercial during Sunday's Super Bowl with Matthew Broderick portraying a very Ferris Bueller-like day off from his busy movie career. 
But what convinced Broderick to take a nostalgia trip back to his 1986 career-making, cult-favorite role from Ferris Bueller's Day Off? 
As he explains to New York Magazine, "It took a little, uh, thinking about it, it took a little time, but I ended up thinking it might be amusing."   Another reason for participating was that the two-and-a-half minute commercial was directed by Todd Phillips (The Hangover films), and Broderick adds, "Todd Phillips was directing it, who's a good director, and I thought it would be fun to send up Ferris Bueller a little bit." 
Broderick was concerned how the commercial would turn out, since he spent four days "running around L.A. … thinking, 'I hope this is a good idea.'"  But since Honda released the commercial early it's gotten a tremendous amount of positive buzz, already exceeding four million views on YouTube. 
So Ferris Bueller goes from faking having a virus to going viral?  Or, as Broderick says, "I guess I'm part of a virus."  
You can check out the commercial before the big game below: