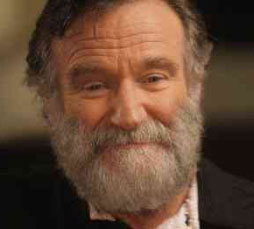 How could anyone narrow down their list of questions for Robin Williams to 10? Somehow, Time editor Belinda Luscombe did just that in a recent sit-down with the acting legend for the magazine's regular "10 Questions" feature. Williams, currently making his Broadway debut as the titular animal in Rajiv Joseph's Bengal Tiger at the Baghdad Zoo, talked about everything from Donald Trump to his favorite comedians in the interview, excerpts from which can be seen in the video embedded below.
During the candid discussion, the Julliard dropout-turned-movie star explained what took him so long to make his Broadway debut. "When I went home from Julliard, I couldn't find acting work," he said. "I took a comedy workshop that was in the basement of a church that had lesbian poetry and stand-up, which is a great double. Eventually I got gigs in TV and movies, and then the rest is somewhat history." The Emmy-winner also had a short, off-Broadway stint in Samuel Beckett's Waiting for Godot in 1988.
Making fun of rumored presidential candidate Trump, Williams said, "The fact that Donald Trump wants to see Obama's birth certificate — I want to see his hairline first," referencing the business magnate's infamous hairpiece. As far as who's making him laugh these days, Williams listed Chris Rock, Louis C.K. and Patton Oswalt.
Video after the jump.  More of Time's interview with Robin Williams can be read here.