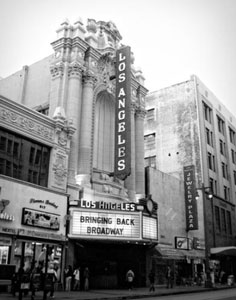 The center of the movie universe, Los Angeles is able to assert its influence on the rest of the United States with its strong film industry. Can the same be said for L.A.'s theater scene? According to the Los Angeles Times, a group of panelists recently discussed the city's role in American theatre at one of its premier performance arts academies, the Colburn School.
"L.A. is very much a company town, at least to the outside world, in terms of being the home of film and television," said Wicked producer Marc Platt at the roundtable discussion, moderated by Times theater critic Charles McNulty.
Meanwhile, on the other side of the country, "New York sort of bolsters itself by still existing under the false belief that theater there is superior to theater in other parts of the country, especially when you look at the fact that a great deal of what winds up in New York — successful or not — is nurtured to get there by our theaters," opined Sheldon Epps of the nearby Pasadena Playhouse. "It is the national theater movement, which is resident theaters of all sizes all around the country, that creates for New York."
Video after the jump.