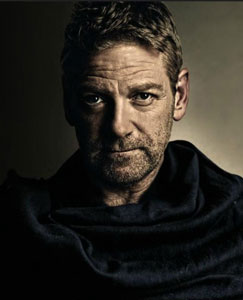 It's hard to believe that an acclaimed actor who has been associated with William Shakespeare's work for his entire career has never appeared on stage in New York City.  But it's true — Kenneth Branagh has never been on Broadway.  And while he has no plans to be on Broadway in the near future, he will be taking his acclaimed production of Macbeth, which was directed by Branagh and Rob Ashford and was featured at the Manchester International Festival, to New York City.
The production in Manchester was staged in a church, but the New York production will be staged at the recently renovated Park Avenue Armory, which takes up an entire city block on the Upper East Side.  So one could say it's getting a bit of a size upgrade.  Branagh himself pointed that out in the announcement, saying, "I am delighted that we have the chance to recreate Macbeth in this epic setting."  Also making her New York stage debut is Alex Kingston, who will again portray Lady Macbeth.
The two productions have a connection in Alex Poots, who is the artistic director of both the Manchester International Festival and the Park Avenue Armory.  He said, "We are thrilled that Kenneth Branagh will be coming to the Armory to recreate this iconic role following his performance in Manchester this summer.  And I am particularly excited that this production will mark his New York stage debut."
Branagh and Macbeth won't be making it to New York until June of next year, so Branagh's co-stars don't have to worry about getting stabbed by accident for several months.
via BBC