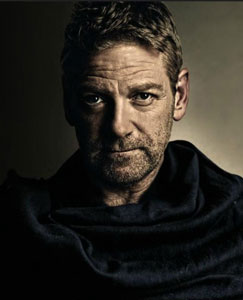 Kenneth Branagh is generally regarded as one of the top Shakespearean actors in recent decades.  But is it possible that Branagh can get a little too much into his latest Shakespearean stage role about a certain murderous Scottish king?
According to an audience member, an unnamed actor was accidentally injured by one of Branagh's sword blows during his current acclaimed production of Macbeth at the Manchester International Festival.  Branagh's production uses real weapons during the battle scenes, and audience members in the intimate venue (a former church) have the potential to get pelted with mud, blood, and rain.
The actor in question continued with the play after a brief check-up.  The MIF released a statement, saying, "An actor was hurt during one of the fight scenes in a performance of Macbeth on Wednesday night.  MIF has qualified medics on site during each performance and the actor was assessed and told he was fine to continue on with the evening's performance. The actor was taken to hospital afterwards as a precaution."
Branagh's Macbeth runs through July 20 and will be broadcast in UK cinemas that night.  The filmed version will begin appearing in cinemas worldwide in October.  Let's hope it remains injury-free until then!
via The Telegraph