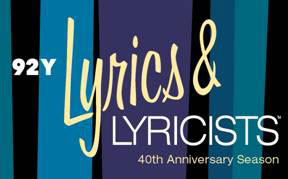 El Morocco, The Copacabana, The Plaza's Persian Room—New York's legendary nightclubs of days gone by. The very names conjure the glamour of another era: Elizabeth Taylor is still dancing the rumba with Richard Burton, Ethel Merman is Queen of Broadway, and the Duke and Duchess of Windsor are the royal romance on everybody's lips. Last weekend, the 92nd Street Y's Lyrics and Lyricists series, a New York institution in its own right, paid homage to those late great clubs.
Artistic director and host Deborah Grace Winer wove a witty history of those boîtes, from the first cave men sitting around the fire to the heyday of café society in first half of the twentieth century. The legacy of Darwin's Darlings and Bobby Darin was in good hands. Grammy award winner Billy Stritch crooned away at "Breezin' Along with the Breeze", and reminded audiences how capable he is away from the piano—that is, when he is not busy being Liza Minnelli's musical director. Karen Ziemba, formidable triple threat and Tony Award winner from Contact, was equally charming with a song whose title says it all, "I'd Rather Cha-Cha Than Eat." And fans of TV's Gossip Girl would flatly refuse to believe James Naughton's (aka William Vanderbilt) enchantingly goofy rendition of Dave Frishberg's pastiche song "I'm Hip."
In the company of those performers, that dearly departed world seemed well-tended and accessible, if not tangible. We may not have Wallis and Edward, but we do have Catherine and William. Chic civilization is safe.