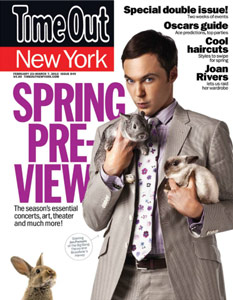 Despite being best known for his starring role on The Big Bang Theory, like most actors Jim Parsons began his career in theater.
He'll return to theater this summer when he stars in the Broadway revival of Harvey as Elwood P. Dowd, a friendly man who claims to have a best friend named Harvey — though Harvey happens to be a six foot rabbit.  Parsons spoke about his reasons for his recent return to theater and why he chose Harvey with Time Out New York.
After finally breaking through with television — which Parsons didn't do until he was well into his thirties — why return to theater, which began with his appearance in 2011's revival of The Normal Heart? 
He explains, "I've had this hankering for a while now. A little over a year ago, [my reps] and I were talking about what was going to happen over hiatus, and I said I really wanted to do theater. I said I'd even work for free! A couple of days later, they called and asked if I wanted to do The Normal Heart. I nearly fell out of my chair. It was a reiteration of that old lesson: Let the universe know what you want, and you just may get it."
Parsons doesn't see his work on The Big Bang Theory as that different from his experiences on stage.  He says, "I think in any form of acting, you're always well served if you've done theater. Especially in the multi-camera [sitcom] format, where you're literally putting together a little 40-page play in five days, and then taping it before a live studio audience. There's a core similarity that's undeniable."
Curiously, while most people are familiar with Harvey from the 1950 film adaptation starring Jimmy Stewart, Parsons admits that he's drawn to the play for other reasons, revealing, "I actually know the play better than the movie, which I've never seen. I find the situation fascinating. Everybody thinks it's a story about a man and his imaginary friend, who happens to be a six-foot-tall pooka, essentially a big rabbit. But there's more depth to it. Why is Elwood doing this? It's a sweet, human tale, and there are several lessons to be taken from it."
Harvey begins its run at the Roundabout Theater at Studio 54 on June 14 and runs through August.  Previews begin May 18.