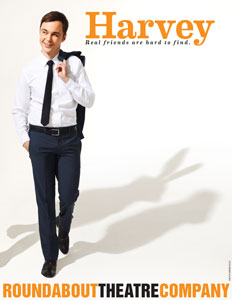 Thanks to Entertainment Weekly, we got our first look at the poster for thethe Roundabout Theatre's Harvey.
I think it looks pretty damn inviting and will definitely put this on my list of shoiws when I'm back in New York this summer.
Jim Parsons will star as Elwood P. Dowd alongside Jessica Hecht (Veta Louise Simmons) and Charles Kimbrough (William R. Chumley, M.D.).
The show will be directed by Scott Ellis.
Performances of Harvey will begin on May 18th, 2012 on Broadway at Studio 54 (254 West 54th Street) with the official opening set for June 14th, 2012. The limited engagement is scheduled to run through August 5th, 2012.
Tickets are available by calling Roundabout Ticket Services at (212)719-1300 or online at www.roundabouttheatre.org. Beginning Monday, April 2nd tickets can be purchased at the Studio 54 box office (254 West 54th Street). Ticket prices range from $37.00-122.00
Harvey will play Tuesday through Saturday evenings at 8PM with a Wednesday, Saturday and Sunday matinee at 2PM.