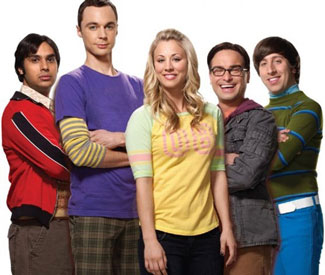 Ever since the Friends cast renegotiated their contract together before the start of their third season, group contract negotiations have become de rigueur for television shows. The latest show to band together is the cast of The Big Bang Theory.
With the news that Mayim Bialik and Melissa Rauch, who were upgraded from recurring characters to regulars on the series, had signed a new contract, the show's main stars decided it was also time to ink a new deal. Jim Parsons, Kaley Cuoco and Johnny Galecki are looking for a pay raise.
The three original cast members currently earn $325,000 per episode, according to TV Guide Magazine. They are reportedly seeking up to $1 million per episode.
Two other stars, Simon Helberg and Kunal Nayyar, are going to negotiate together in a separate deal. While the show is only renewed through this season, it is expected to be picked up by the network beyond Season 7.
Ratings have expanded the CBS show's viewership after a syndication deal with TBS kicked in last year. That move allowed the sitcom to top Modern Family as the No. 1 scripted comedy in terms of viewership and the favored 18-49 demographic for advertisers.
As for Bialik and Rauch, they saw a nice increase in their pay. Both are going from $20,000-$30,000 per episode to around $60,000 per episode. There is also an increasing salary bump beyond Season 7 that will eventually take them to $100,000 per episode.
The Big Bang Theory is up for Outstanding Comedy Series and Parsons is again nominated for Outstanding Lead Actor in a Comedy Series at this Sunday's Emmy Awards. Bob Newhart already won an Emmy for his guest appearance on the show last weekend at the Creative Arts Emmys. He is also slated to appear in the upcoming season.
Other ensemble shows that have renegotiated TV contracts as a group include Modern Family, The Simpsons and West Wing.