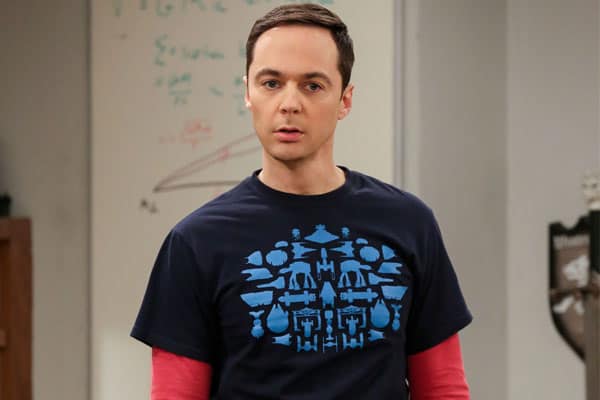 Jim Parsons is probably best known for his portrayal of Sheldon on the hit CBS sitcom "The Big Bang Theory". The actor says people are often disappointed to learn he is NOT as brilliant his alter ego. "I'm not stupid. But I'm no genius," Parsons says.
Having won both the Golden Globe and an Emmy for his portrayal of the beloved geek, Parsons was amused by a repeated question posed by the press during awards season: did he feel bad for the other cast members on the show?
"No. I don't feel bad for the rest of the cast members," Parsons laughed. "Are you kidding me? They're doing fine." He added,  "It's been a fantastic four years. We've gotten better and better, and literally the word on the street, you run into people all the time that are watching it, and they vary in age, gender, size. Just all sorts of people that are watching it, and I really appreciative that 'A,' we get to keep doing it and 'B' that it is appealing to so many different types of people. I hesitate to call it family entertainment. But I think that's exactly kind of what we've done."
Parsons admits when his name was called Emmy night, he could not believe it was happening. He explains, "I really felt that way as I walked up the steps. It was LL Cool J and Eva Longoria … up there and that seemed just about weird enough. And I don't know. It was wonderful. It was wonderful. But it was very odd. They had a dream quality to it."
Rumors have been flying the "The Big Bang Theory" will be moved to the coveted time slot presently occupied by "Two and a Half Men".
Parsons says, "As far as moving times, we've moved four different time slots in four years, and thanks to the good thinking of the time makers at CBS, it's always worked out for us. So if we do move again I trust, knock on wood, that it will be another good move. I loved being on Mondays. Things have worked out great on Thursdays, though. So, I just — I don't have a feeling on it." He then added, "I worry. I did worry until the fourth time they moved us and the people still came. Not to take it for granted, but apparently they know what they're doing over there. Somebody in this building has their eye on it."
During his hiatus from the show, Parsons has found " a slice of heaven" on Broadway in a role in "The Normal Heart." He plays a young gay Southern transplant named Tommy Boatwright, and the play co-stars Ellen Barkin, Lee Pace, John Benjamin Hickey and Joe Mantello and is being performed at the John Golden Theatre in New York.
"There's something about this play, this particular production, and the effect it's having on audiences that, in many ways, is for me exactly why I got into acting to begin with. It is a true ensemble effort. There's just a group dynamic and a group power behind this piece, and it really seems to translate to the audience," Parsons says. "You know, every night we wrap this play up, and I feel very affected by it. It's all true. You know, it's all fact-based. And I think that has a big impact. And it's — there's no denying it's sad. It's moving. You know. But there are movements of levity. Hopefully I get to deliver a couple of them."
The play is set in the 1980's and Parsons says at that time no one knew what AIDS was. "They were having trouble getting attention paid to it and things like that. In the end, it's a very human story of people coming together and getting something done. And showing love for one another. You know. If that doesn't sound too cheesy that's exactly what it is."
via cbsnews.com