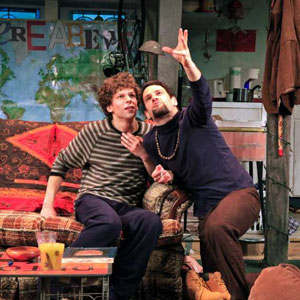 What's the easiest way to get the play you've written staged in a New York City theater? Well, while most writers will tell you that it requires dedication, working as much as possible, and getting your name out there by networking, recently there seems to be a more stable route: become a star in television or film first, then go ahead and write.
Playbill has taken notice of the recent trend of actors who are appearing in plays written by the actors themselves, or avoiding the stage altogether and just writing the plays.  The recent trend seems to have been kicked off by Scrubs star Zach Braff's All New People, which ran at the Second City Theatre this past year.  Following that were We Live Here by Zoe Kazan (Revolutionary Road) at the Manhattan Theatre Club and Asuncion by Jesse Eisenberg (The Social Network) at the Cherry Lane Theatre. 
Kazan doesn't see herself leaving acting behind to solely write, explaining, "I have a hard time thinking of myself as a writer.  It was never part of my identity. When, at 14, I auditioned for my first school play, I came home and told my parents, 'I know what I want to do with my life.' A lightning bolt hit me. First and foremost, I'm an actor, but I've always written, and I derive great pleasure from it." 
Eisenberg sees writing different, as he admits he treated it as a fallback career when acting gigs weren't coming his way.  "I wrote Asuncion in less stable times, when I hadn't worked for about a year. I got so panicked I wrote a musical and another play. It's not just downtime. If you were sure you'd work in six months, downtime wouldn't be so painful. It's the added insecurity that each time you do something it ends and you've got to go procure something new."
So how did Kazan find time to write her plays? Like Eisenberg, she did it during her downtime.  She says, "Last year, when I did Angels in America, I didn't really have any time to write, but A Behanding in Spokane was 80 minutes, and I'd have the whole day ahead of me to preserve my energy, so I'd go to my dressing room hours early and write."
Who knows what actor's script will be next in line for the New York stage, but let's hope that these actors won't be too busy writing to have any time left to act!
We Live Here runs through November 6 at the Manhattan Theatre Club. 
Asuncion runs through November 27 at the Cherry Lane Theatre.