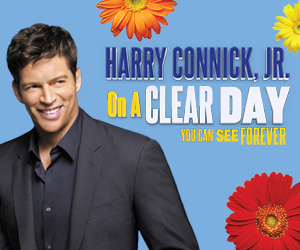 I got 2 emails in less than 30 seconds.
The first was the announcement that the Harry Connick Jr. starrer, On A Clear You Can See Forever was set to have it's final show on Sunday, January 29th at the St. James Theatre.
The second email was that the new musical, Leap of Faith, would begin performances on April 3rd. Where?
The St. James Theatre.
Ah, Broadway.
It was no secret that On A Clear Day was a major flop. After having 29 previews and eventually 57 regular performances, the show was struggling to make money. 
I think Connick is a great Broadway star and he'll no doubt bounce back in something perfect for him and his talents.
Leap of Faith, based on the film of the same name, will be directed by Christopher Ashley and star Raúl Esparza (he originated the role in LA).