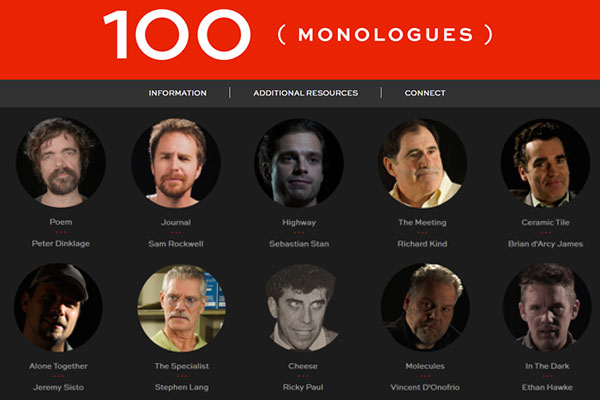 Stage actors are likely familiar with Eric Bogosian, the playwright-actor whose 1986 one-man show Drinking in America won the Drama Desk Award for Outstanding One-Person Show and whose plays Talk Radio and subUrbia were adapted into films. As an actor, he is best known for his television work playing Captain Danny Ross on Law & Order: Criminal Intent, Lawrence Boyd in Billions, and Gil Eavis in Succession, or portraying Arno in the 2019 film Uncut Gems.
In 2014, Bogosian released the book 100 (Monologues), a compendium of his monologues from his six off-Broadway one-man shows (including Drinking in America) as well as Talk Radio and his other works. The book has become an essential part of any actor's library because its many clever, witty, emotional, and profound monologues that are ideal for auditions.
Before the publication of the book, Bogosian asked his friends in the acting world if they would each contribute a recording of them performing one of the monologues to 100monologues.com as a companion piece to the book. Since then, Theater Communications Group has posted recordings of the monologues to the website featuring actors like Brian D'Arcy James, Vincent D'Onofrio, Peter Dinklage, Ethan Hawke, Richard Kind, Natasha Lyonne, Ajay Nadu, Sam Rockwell, Winona Ryder, Michael Shannon, Michael Stuhlbarg, Sebastian Stan, and Jennifer Tilly, have contributed recordings of Bogosian's monologues. Over 70 recordings of the monologues have been posted so far.
100monologues.com also features links to more information and archival materials relating to Bogosian's works. It serves as an incredible resource for actors who would like to see a clip of award-winning actors performing Bogosian's monologues — which can inform their own interpretations of Bogosian's monologues.
Check out the website at 100monologues.com