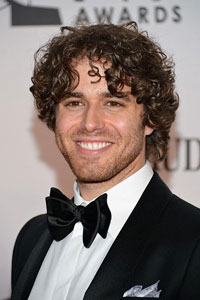 I talked to Josh Young early last year (read the interview here), right about the time that Jesus Christ Superstar opened on Broadway. I had seen him as Judas during the shows run at the La Jolla Playhouse and thought he was fantastic. Since then, he's gotten a Tony Nomination for Superstar and is now traveling the country in Evita.
In the Andrew Lloyd Webber classic, he plays Che but not Che Guevera from previous productions or that horrible movie with Madonna. The producers changed the show around and now his Che is just a working class guy; kind of a man of the people. Josh told me that he actually thinks the way they've worked it now tells the story better. This isn't the first time he's played the role of Che. He originally played Che (the Guevara part) back in 2010 at the Stratford Shakespeare Festival but so much has changed in the show, he said. Especially now because he spends the whole show on-stage.
It was very cool to talk to him a second time to see how his career has progressed since his nomination. We talked if thats helped him with auditions and casting directors, life on the road and oh yeah, Evita!
Evita is currently playing in San Diego. For tickets, click here. Upcoming tour dates include San Jose, Las Vegas and Tempe, AZ. For more tour dates and ticket information, click here.
For the full interview, click the audio link above or download it from iTunes

How's life on the road?
Josh Young: Life has been great on the road, actually. This show is just really wonderful and the cast is also really wonderful, so I can't complain.
When I'm home I try to eat healthy, but when I'm on the road working I always try to eat the best local foods and usually it's the worst foods for you. Do you have any problems trying to eat healthy while you're on tour?
Josh Young: I didn't until I got to LA. The last place we were staying at had a really nice kitchen. Actually, I have a really nice kitchen here, too. But I've been so busy with meetings in LA that I don't have time to cook for myself, so I've been eating really horribly. I just had 2 slices of pizza, which I normally don't do. So, yeah, it's been tough in LA but once we get out… when we get to San Diego I think it'll be great. I'm gonna have a kitchen out there and I'll be able to cook again, so I look forward to that.
So in the show you're playing Che, but this isn't the first time you've actually done this role or, I guess, a version of this role.
Josh Young: Yeah, yeah. I did it at the Stafford Shakespeare Festival in 2010 and, actually, our producer Hal Luftig saw me do it up there and that's essentially why I'm doing it now. That was a totally different Che. That was the Mandy Pantinkin/Che Guevara. I should say the Mandy Pantinkin/Che Guevara, it was Che Guevara, but it was the Hal Prince idea of making it Che Guevara.
How is it playing the role all these years later?
Josh Young: Well, it's completely different because now he's not Guevara, he's just one of the working class people and I actually think the story is kind of told better this way because you get to see it through the eyes of one of the people that Evita is supposedly trying to help. So in that, I think it's… we tell the story a little bit better.
Did you have any hesitations to do the role again?
Josh Young: I did because I didn't think that it would be a good idea. I thought it worked really well as Guevara. I thought I really loved what I did with Gary Griffin at Statford and I thought that production was, like, I held it in such a high place. I didn't think that this would be as good of storytelling, but it actually is. I think it actually works better this way and I'm enjoying it just as much. I don't feel like I'm tired of playing an old part, I feel like I'm kind of invigorated and playing a new part.
I would imagine even if you were playing the same part again, life experience and all that, you can add so much more to it now.
Josh Young: Yeah. Absolutely. Absolutely. I think I totally do.
How long did you guys rehearse for?
Josh Young: We rehearsed, the whole company rehearsed for 3 weeks. Caroline [Bowman], who plays Eva, and myself, we had an extra two weeks. So it was a total, for me, of 5 weeks.
But we actually, we had one previous whereas most shows have a month of them. We had one preview and then we opened. But I really think they knew that when they were casting this. They got people who are really smart and pick stuff up really quickly and so it works. We opened technically in Providence [Rhode Island], I felt like our real opening was in Los Angeles because we didn't really have that preview period.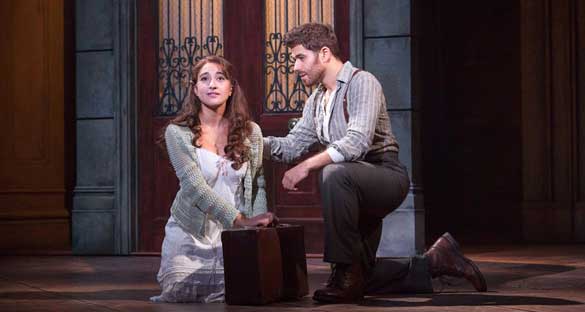 When you do a role twice, did you have to, before the rehearsal process, did you have to go back over and re-memorize lines? Or did it just come back to you like it was nothing?
Josh Young: Well, there are a lot of lines that actually have been changed and a lot of melodies that I had sung differently in the Stratford production that I kind of re-learn. But a lot of it I remembered and a good portion of it they let me sing it the way I was used to. But a lot of it I had to change also. Especially in 'The Money Keeps Rollin In' I had to change a lot of stuff that I wasn't used to for this production.
I read that you're basically on stage for the entire show.
Josh Young: Yeah, yeah. Whereas it's funny, in the Stratford production, whenever I wasn't saying something, I was off stage. So it's completely different.
When the focus isn't on you, do you enjoy kind of watching the show progress or do you like to be off stage?
Josh Young: I liked it when I was off stage because whenever I was on stage I was furthering the plot. So I liked that being off stage and then coming on stage and delivering what I had to do. In this production I'm not only a narrator, but I'm also a character. I have relationships with all the other people on stage. So it's kind of the best of both words. I get to narrate and also have relationships and dialogue with other characters. There's a lot of improvisation going on also, which is fun.
I wanted to ask you about your Tony nomination. Congrats, by the way, that's freaking awesome.
Josh Young: Thank you.
You're like a known guy now. Especially with casting directors. When you go in for an audition now, does that give you a certain amount of confidence?
Josh Young: No. Actually, I feel like I have expectations now to live up to now.
Yeah, I can see that.
Josh Young: Yeah, so that's kind of the way I feel. But when I've been going into TV stuff, it's different. I feel like they really respect the Tony and they kind of don't have expectations because they've only seen me doing musicals. So I've had a lot more confidence going in for TV and film stuff, actually.
If I was sitting there in the audition room and I saw you come in, I'd be like, "Oh, damn. He just walked in? I'm doomed."
Josh Young: I haven't really been on any auditions since then. So I haven't had any musical theatre auditions. I've had one, oh yeah, I had just one and, yeah, I did feel like… I remember feeling very specifically like there were big expectations on me. But for the most part I haven't done much lately.
What does getting a Tony nomination do for your career? I know you said you've only auditioned for one thing musical theatre wise, but do you think it's going to get you sort of into those doors a bit easier?
Josh Young: You know, I don't know. I think my agents are able to call casting directors who don't know me and say, "Josh Young, he was nominated for a Tony last year." So it opens doors in that respect. As far as casting directors who knew me already, I don't think it really does anything. I think the ones who saw my performance, they either liked it or they didn't. But I think it really helps with new relationships with getting into doors of people who didn't know me before who might not have said, "Ok, we'd like to take a meeting with Josh in LA." I think now my agents are able to say, "Josh Young, who was nominated for a Tony last year," and I think maybe they're more apt to take the meeting.
Do you want to try and transition to do more TV and film?
Josh Young: I would love to do TV and film. It's funny that I'm doing Evita right now because my biggest role model is Mandy Patinkin and I mean that in terms of his career path. So I would love to kind of do both like he did or is doing.