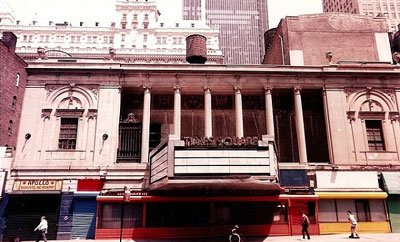 Sandwiched between the American Airlines Theatre at 227 West 42nd Street and the Foxwoods Theatre at 213, the Times Square Theatre at 217 has been empty since the 1990s. 
Before it was converted into a movie theater in the 1930s, the Times Square Theatre premiered George and Ira Gershwin's Strike Up the Band and Noel Coward's Private Lives. For years there were plans to convert the theatre into a restaurant or retail space, though preserving the landmark structure was a priority (by law the venue must preserve aspects like the domed ceiling and the stage proscenium arch).
But the New York Post reports that the Times Square Theatre will once again be an entertainment venue, housing Broadway Sensation — a 4D Musical Spectacular. 
It aims to be "a 3D film enhanced show incorporating in-theater special effects" celebrating the history of Broadway with a focus on memorable songs from musicals by Rodgers and Hammerstein and Andrew Lloyd Weber. 
The project involves a number of high-profile entertainment figures: Gary Goddard, who produced Jekyll & Hyde and the recent revival of Hair as well as 4D rides at Florida's Universal Studios, Bryan Singer, film director of The Usual Suspects and X-Men, and film executive Jeff Sagansky.  Singer and Sagansky will serve as executive producers.  The concept was created by entertainment lawyer Robert Kory.
Though Broadway Sensation isn't expected to debut until mid-2013, it sounds like an interesting mix between Broadway shows and tourist-trap attractions like Madam Tussaud's which populate the Times Square area.  It certainly sounds like it could be a great way to introduce younger audiences to Broadway history.  Anyway, it's far better than having an Applebee's or Best Buy in a historic theatre, right?