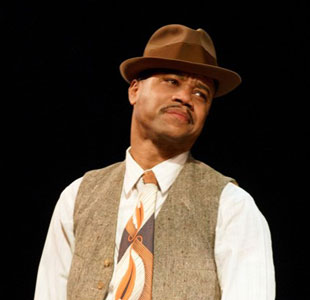 Cuba Gooding Jr. hasn't had the greatest success since winning his Oscar for Jerry Maguire.  Let's just say making Snow Dogs didn't do much for his career.  But now that Gooding is starring in The Trip to Bountiful on Broadway, he feels like things are finally back on track.
"There was so much expectation after I won the Oscar," he said in an interview with AP.  "And so many opinions that floated around, and the negativity about me and my choices.  And there were some missteps on my part—I was saying no to a lot of good directors that I shouldn't have.  Now that I'm at this creative place, I understand the path God put me on.  He put me where I'm supposed to be right now.  Now if there's anything to prove, it's that that first promise of my ability was correct and I'm ready to engage again."
Aside from the play, Gooding has three new films coming out soon (including Lee Daniels' The Butler.)  "I realize the older I get, when I'm not being creative is when I'm frustrated," he admitted.  "If you have talent, that's all that matters.  And if you focus on your craft, your talent will show."
The 45-year-old is enjoying his time onstage, alongside his costars Cicely Tyson, Vanessa Williams, and Tom Wopat.
"This is what made me fall in love with acting," Gooding said.  "Now it's like I'm living that again and I finally feel awakened.  That euphoria of doing roles is what I was born from."