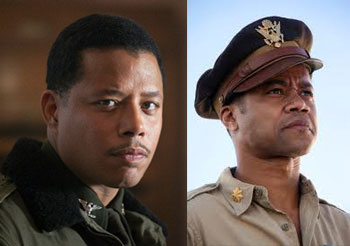 Red Tails isn't just a vanity project for producer George Lucas — the story of the World War II Tuskeegee Airmen is something Lucas has wanted to tackle for years — but a film that fills a void that is all-too-often ignored: a drama with a predominantly African-American cast. 
They're a rarity in Hollywood, and Think Progress caught up with two of the film's stars, Terrence Howard and Cuba Gooding, Jr., to discuss with them the current state of African-Americans in Hollywood.  Their thoughts?  It's difficult to break through.
Howard maintains that Hollywood is unwilling to invest in films with African-American casts because of the perceived low earning potential.  He explains, "Now, Hollywood, for a number of years has maintained the status quo by saying black films do not have an international value. Therefore we're able to pay black actors less, we can give them less money to make their films…If this film, if George Lucas, who is basically the Parrish of the film industry, as Col. Noel Parrish did for the Tuskeegee Airbase, he put his entire career on the line and stood behind these black pilots, these American pilots. What George Lucas did, he put his entire career on the line…when they wouldn't distribute it, he put $30 million into distribution. If this film is not successful, it will become a stumbling block for all time where they can say that black films do not have value or merit. It's important that this film is supported…if George Lucas does not profit from this, then the rest of the industry will see no profit in black people."   While I question Howard saying that Lucas put his "entire career" on the line with Red Tails — face it, $30 million isn't likely a tenth of Lucas' fortune and he'll make most of it back on the next round of Star Wars merchandise — Howard is correct to insist the importance of the film.  "Black" films are almost always urban comedies or romantic comedies, and there are very few dramas released with predominantly black casts. 
Gooding Jr. adds his perspective from the production side, admitting that many studios are unwilling to test an African-American director.  "To strive to promote black independent filmmakers, I go to festivals, I meet them, and then when people offer me projects that don't have directors, I tell them, what about this guy? [People like director Lee Daniels, with whom Gooding's made several movies], these are the new voices in Hollywood…With Spike Lee, this black director, now that we have him, we don't have to look anymore. We've got one. I'm with CAA, and I tell [Gooding's agent], who's the next voice? Men and women, let's get them. Let's support them in a big studio project."  But as Gooding points out, Spike Lee is great, but every major film with predominant African-American cast shouldn't be made by Spike Lee or Taylor Perry.  Lucas is taking a chance with Anthony Hemingway, a first-time African-American film director who has worked in television for some years or on films as an assistant director.
Hopefully Red Tails does find an audience and catapults several young African-American talents who are involved in the film on both sides of the camera into the Hollywood mainstream.
Red Tails hits theaters on January 2012.