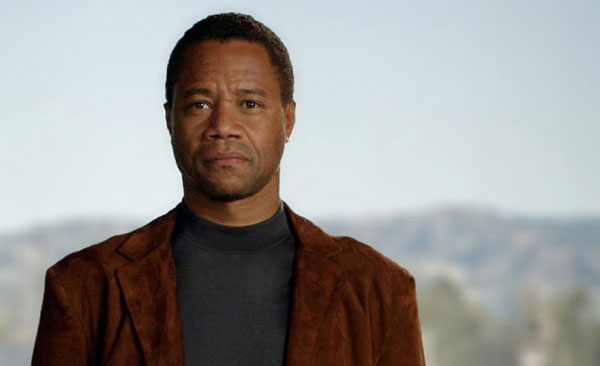 "I wasn't getting the roles offered to actors that hadn't done a third of the roles I had done, or had the popularity I had." – Cuba Gooding Jr.
Cuba Gooding Jr. has had a less-than-stellar career after winning an Oscar for his supporting role in 1996's Jerry Maguire. He's been the butt of jokes after starring in more low-budget and badly-received films than he likely would care to admit. But Gooding has seemed to have landed his comeback role on television as the star of The People v. O.J. Simpson: American Crime Story. While Gooding doesn't look much like Simpson, he has been getting rave reviews for his portrayal of the disgraced football Hall of Famer.
In an in-depth interview with Vulture, Gooding reveals what he learned during his long exile for major studio roles and why he's learned to put all of his faith  as an actor in working with talented directors.
Gooding admits that his career had seen much better days prior to American Crime Story, and it has often involved working with less-than-stellar creative talent. Because of that, he explains why he even had his concerns about signing on to play Simpson:
I did this ten-year stint of direct-to-video movies. One I did is out now, called Freedom, and it was a slave musical. This billionaire guy had money, and he could push the movie through. A lot of times when you have guys like that who don't really know how to make films, but they're controlling it because they have the finances, you really get their agenda. You're not seeing a piece of work where I would say, "Wow, this is a great statement of a film."

So when my agents called me, they said, "There's this guy. He's got a bunch of money. He's Australian. He's going to do a movie about O.J. Simpson's innocence." I was like, "All right, send me the script." I read it, and it was 160-something pages of all factual stuff, no real structure. I said to my agents, "Who's directing this thing? Who's the filmmaker?" "They don't have one. They're going to attach you and then look for one." I go, "Pass." I'd been down that road a thousand times. I worked with every crackhead director that got financing.

So my agents call me a couple weeks after this episode. They say, "Ryan Murphy wants to meet you." I said, "Whatever he wants, I'm in!" They go, "It's funny you said that, because he wants to do O.J. Simpson." I told them, "I don't care what it is. I'll play Marcia Clark. As long as it's a real filmmaker, I'm in.
In addition to his excitement about working with Ryan Murphy, Gooding points out that his new philosophy is to not to look for good parts, but to look for good creative talent. He says, "I don't choose parts. I choose filmmakers. I'm done trying to make a statement with a character. What happens is, I craft a performance from the beginning to the end of the character. Then I release it to the director, and he interprets what I gave him. I won't give a percentage, but I can watch that performance and go, 'He f—ing didn't get it.' You'll watch the performance and go, 'Cuba was okay in that.' And I'm going, 'That wasn't what I signed to do.' Instead of worrying about the character, now I choose roles based on who my director's going to be. If there's a connection there, I don't care what the role is."
Gooding elaborates on how he learned to trust a director more than anyone else, adding:
"I was in the wilderness of Hollywood for almost ten years. I was off the studio lists. I wasn't getting the roles offered to actors that hadn't done a third of the roles I had done, or had the popularity I had. I didn't have 'Steven Soderbergh is looking to work with me' anymore. I was hooked up with a couple of low-budget producers who had foreign financing money and were doing a formula where they would sell the foreign presales coupled with personal, private investors who had a billion dollars, and they green-lit the movies for under $5 million as long as I was in it. [It got to the point] where, if I was with another action star like Dolph Lundgren, they green-lit the movie and I'd have a job. The freedom of that — the great part of that — was I could edit, I could direct, I could write. It was like going back to film school. It was then I was exposed to the fact that the director is the main f—ing voice. Nothing else matters. If the director doesn't get it, you're dead. I'll never forget the most frustrating arguments I would have with director[s]. I would say, 'This studio doesn't get it. They changed this scene and it doesn't work for the story.' He goes, 'I know, but I had to compromise.' He didn't care to make a statement — he just wanted to keep the studio happy. And then, of course, the movie would bomb. It would disappear."
One thing is for certain: Despite that everyone watching American Crime Story knowing how it will end, many are watching with their eyes firmly on Gooding. As the actor points out, that wasn't the case even a year ago.