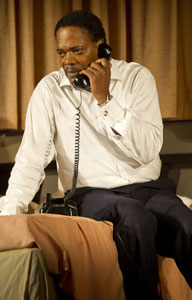 What do producers do when a play that already has a set end date because of the lead actor's commitment to a film ends up being a major success, especially when that lead actor is the show's main draw? 
That's the problem that the producers of the Martin Luther King, Jr. play The Mountaintop, which with Samuel L. Jackson in the lead role has become a major Broadway hit at the Bernard B. Jacobs Theatre.  But the show is scheduled to end on January 22 — just after Martin Luther King, Jr. Day — because Jackson is committed to start filming Quentin Tarantino's Django Unchained. 
While producer Sonia Friedman claims that the role is "eminently recastable," she's ignoring the reality that much of the production's success lies on the shoulders of the iconic Jackson, who made his Broadway lead debut in the show (Jackson previously appeared as an understudy in the 1990 production of The Piano Lesson). 
Another option is a temporary cast member until Jackson is ready to return after filming his supporting role in Django Unchained.  But again, why would you see the play in February when you know you can see Jackson in the role in March or April?  While that's certainly better than shutting down the production (you can't possibly keep a theatre empty in New York for long), it doesn't seem to yield much potential for success, either.  Finally, should Jackson decide not to return to the play it's likely that one of the final shows will be filmed for simulcasting in movie theaters, which could of course lead to home media release.  But unless another decision is made, The Mountaintop is set to end in January.  Who knew that Jackson was not only just the movie box office champion, but also has a tremendous effect on the Broadway box office too?
Via Broadway World